Press release
Medway skip company fined for illegal waste activity
Medway skip hire company and owner ordered to pay £17,120 after an Environment Agency investigation found them operating the site illegally.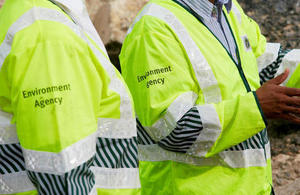 Walsh Skip Hire Limited, of Knight Road, Strood, pleaded guilty to the offences at Maidstone Magistrates' Court and was fined £10,000 with costs of £5000. The company owner Peter Walsh was fined £1500, with costs of £500 and a victim surcharge of £120.
Charges were brought when the Environment Agency investigation found significant volumes of waste on and surrounding the permitted waste site, which exceeded the environmental permit limits of 20 tonnes of non hazardous waste and 150 tonnes of inert waste.
The court heard how site inspections in 2013 identified multiple permit breaches, with excessive amounts of waste on the property and the site infrastructure in a state of disrepair. Environment Agency officers worked with the site operator to address these issues and agreed a course of action; however these actions were not taken.
Two enforcement notices were issued in May 2014 with staged timescales to bring the site into compliance by 14 September 2014, including adhering with the conditions of the environmental permit and removing the huge stockpile of waste, which was now crushing and covering the site's boundary fences and spreading onto land belonging to several different landowners. However on 15 September 2014 the site was still far below the standards required with multiple permit breaches noted, including the large stockpile of mixed waste on and off the permitted area.
Alan Cansdale, Environment Agency Environment Manager, said:
The limits within Walsh's environmental permit reflect the limited space and infrastructure at the site, which is crucial as the mismanagement of waste can have a detrimental impact on the local environment.

The site operator had a history of poor performance and my team have worked with him in the past to improve the situation, however on this occasion he was unable to do so. Those that repeatedly fail to comply with regulations pose a heightened risk to the environment and undermine legitimate business. In such circumstances we will have no hesitation prosecuting to ensure that waste crime doesn't pay.
Notes to Editors
Walsh Skip Hire Limited was charged after the company's actions were deemed to be contrary to The Environmental Protection Act 1990, Section 33.
The case was heard on 24 September 2015.
All media enquiries 0800 917 9248
Follow us on Twitter @EnvAgencySE
Published 25 September 2015