Press release
Medmerry showcased at the IUCN World Conservation Congress
The Environment Agency's innovative flood defence scheme in Medmerry is being showcased at the IUCN World Conservation Congress in Hawaii.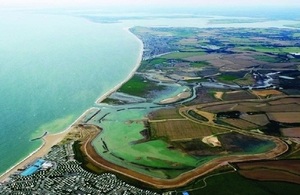 The Environment Agency's innovative flood defence scheme in West Sussex, 'Medmerry', is being showcased at the IUCN World Conservation Congress in Hawaii this week (w/c 5 September 2016). Held every 4 years, the IUCN World Conservation Congress helps shape the future direction of conservation and sustainable development.
As well as being presented as a case study for nature-based solutions, the multi-award winning scheme has also been selected to form part of the International Union for Conservation of Nature (IUCN) 2016 report.
The Congress - which brings together several thousand leaders and decision-makers from government, civil society, indigenous peoples, business, and academia - will hear that Medmerry was completed in 2014. Its innovative design was based around the latest thinking on natural flood management techniques, but also incorporated 4 miles (7 kilometres) of new sea embankments. Together, these measures have significantly reduced coastal flood risk to hundreds of local properties as well as protecting the key infrastructure for the town of Selsey. The defences have been hailed as a gold standard of flood defence in the UK *.
James Humphrys, Environment Agency Area Manager, said:
I am delighted to see Medmerry forming part of the IUCN's report. Schemes such as this protect people and property from flooding, as well as creating large scale, good quality habitat for the benefit of numerous wildlife species.

It is an honour to be linked with IUCN, and I look forward to meeting in December with Stewart Maginnis, IUCN's Global Director of the Forest and Climate Change Programme, to discuss how, by working together, we can create solutions for society and the environment.
Medmerry created a new wetland for local wildlife with 183 hectares of intertidal coastal habitat for wading birds and potentially endangered species, including the water vole. Much of the site is now managed by the RSPB as a nature reserve.
This new form of defence has helped to save £300,000 taxpayers' money each year (the cost of constantly repairing/maintaining the shingle bank during the winter months). It also supports local economic growth by allowing businesses to operate all year round, and encouraging 'green' tourism.
The IUCN is uniquely composed of both government and civil society organisations. It provides public, private and non-governmental organisations with the knowledge and tools that enable human progress, economic development and nature conservation to take place together.
Stewart Maginnis, Global Director of the Nature-based Solutions Group at the International Union for the Conservation of Nature said:
Ecosystems and the way they are managed, restored and conserved, present real solutions to societal problems such as climate change, food and water security, and in reducing disaster risk. IUCN considers that the coastal realignment in Medmerry perfectly illustrates how nature-based solutions principles come together to deliver tangible, cost-effective benefits for society and nature.

Created in 1948, IUCN has evolved into the world's largest and most diverse environmental network. It harnesses the experience, resources and reach of its 1,300 member organisations and the input of some 16,000 experts. IUCN is the global authority on the status of the natural world and the measures needed to safeguard it. Its experts are organised into 6 commissions dedicated to species survival, environmental law, protected areas, social and economic policy, ecosystem management, and education and communication.
*Since its completion (November 2013) Medmerry has won the following awards:
APM Project Manager of the year - highly commended
BCI Project of the Year 2014 - winner
Prime Ministers Award (nominated by BCI) - winner
CIEEM Practical Conservation - winner
CIEEM Stakeholder Engagement - winner
CIEEM Tony Bradshaw Special Award - winner
CIPR Pride 2012 and 2014 Community Relations Campaign Silver Awards
Considerate Constructor - silver
Constructing Excellence Innovation - winner
Constructing Excellence Sustainability - highly commended
Green Apple Sustainability - bronze
ICE SE Engineering Excellence - winner
IBP PR and Communications Integrated Project of the Year 2014 - winner
Environment Agency Project Excellence Sustainable Resource Manager - winner
RICS Infrastructure - winner
RICS Design through Innovation - winner
RICS - Project of the Year - winner
Published 6 September 2016