Medics erect field hospital in Army exercise
Nearly 100 soldiers from the British Army's 34 Field Hospital unit recently took part in an exercise which saw them erect a huge tented medical facility in Elvington near York.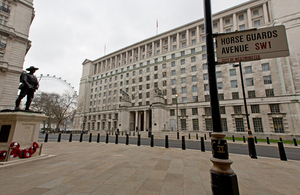 34 Field Hospital is normally based at Queen Elizabeth Barracks in Strensall and has completed several deployments running the field hospitals in both Iraq and Afghanistan.
The hospital in Camp Bastion is a permanent structure, so there is no need for medics to be able to set up a tented field hospital in Helmand, but, to keep their skills fresh, the unit decided to set up its tentage during the exercise in Elvington to check it and refamiliarise staff with the layout.
The hospital - one of the smallest layouts - consists of two six-bed wards, two resuscitation bays, an operating theatre, two intensive care beds and an isolation ward. In addition there is also a dental surgery, pathology laboratory and other support services. However, extra wards can be added if needed.
The exercise saw 34 Field Hospital augmented by staff from all three Services from military hospital units across the UK.
For Lieutenant Colonel Tim Davies, this is the last major exercise he will undertake as the Commanding Officer of 34 Field Hospital. He has served in York in various roles and remembers the last time the unit set up a similar tented structure eight years ago. He hands over command next week to Lieutenant Colonel Jaish Mahan.
Lieutenant Colonel Davies, who will shortly be posted to the Defence Academy at Shrivenham, said:
Just as you would check the family tent and equipment before using it, we are doing the same but on a grander scale.

It is important that we maintain the skills of erecting the tentage, perfect the layout, and know how to use the special ruggedised equipment to deliver the world class standards of medical care expected of us.
I was an Officer Commanding the Hospital Squadron when we set up the last field hospital eight years ago, so I have experienced this before.

In terms of this exercise, I have been pleased with the way the reinforcement personnel have worked.
The medics worked through a number of scenarios, and other medical personnel and amputees acted as casualties to test the procedures. The mock casualties arrived on foot, by military ambulance and even on a Lynx military helicopter. The exercise was overseen by directing staff from 2 Medical Brigade, also based in Strensall, and was visited by a number of senior armed forces medical personnel.
The field hospital was supported by several facilities including a field shower unit, washing machine, generators and a field kitchen.
Published 28 February 2012