Press release
Mediation – the best option for children
Children can be spared the trauma of stressful court battles if their parents use mediation Family Justice Minister Lord McNally said today.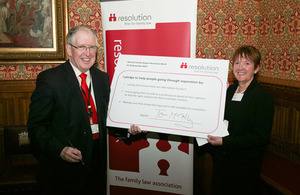 He was speaking as he signed a new pledge created by expert group Resolution as part of Family Dispute Resolution Week which is raising awareness of non-confrontational methods of resolving family breakdown.
The Government wants more couples to use alternatives to court such as family mediation when resolving problems around issues such as child contact. It is less stressful than going to court and helps people to reach longer lasting solutions for the better of any children involved. It can also be cheaper and quicker than taking a battle to court.
Family Justice Minister Lord McNally said:
"Mediation works and is the best option for children. We are committed to ensuring more people resolve disputes themselves, rather than go through the confrontational and stressful experience of going to court.
"When people separate we want them to do it in the least damaging way for everyone involved, especially children. That is why we want them to use the excellent services available to agree a way forward, rather than have one forced upon them by the Courts."
Mediation is not marriage counselling. It involves working with a trained mediator to reach agreements which both members of the couple are prepared to live with after they separate, rather than having them dictated by the court.
The Resolution pledge states
"I pledge to help people going through separation by:
Letting them know there are alternatives to court
Encouraging them to talk to a professional about all their options to find the right solution for them and their families
Making sure they know that legal aid is still available for mediation"
Liz Edwards, Chair of Resolution, said:
"We're delighted the Minister has signed our pledge. Everyone – Government, the legal profession and individuals - needs to do their bit to ensure the right information is out there and people going through a break-up are aware of their options.
"For some couples, court is the only option; but for the vast majority, family lawyers can help them find other, more suitable solutions, which make the difficult process of break-up that much less stressful. This year's Family Dispute Resolution Week is designed to help raise awareness of these solutions and show people that divorce doesn't have to be devastating."
This week also sees the launch of a new public information poster and leaflet which highlight the benefits of family mediation. The materials, produced by the Government and Family Mediation Council, will be available for family mediation organisations, legal practitioners, courts and advice services to use at public information points.
Millions of pounds of public funding is available to pay for family mediation. Last year more than 17,000 people successfully used publicly funded family mediation to come to an agreement with only six per cent needing further legal services, compared to 21 per cent of those who didn't use mediation.
Family Dispute Resolution Week is organised by Resolution, and supported by a range of organisations offering alternatives to court for separating couples and their families. The awareness week provides opportunities for people to find out more about alternatives to court – including some organisations offering free assessment meetings.
Notes to editors:
Resolution is a group of over 6,500 family lawyers and other professionals in England and Wales. It promotes a non-confrontational, constructive approach to resolving family disputes. To find out more, visit Resolution

Read more information about Resolution's Dispute Resolution week

Access the Family Mediation leaflet and poster

The average cost of resolving property and finance disputes caused by separation is approximately £500 through mediation for a publicly funded client, compared to £4,000 for issues settled through the courts. The average time for a mediated case is 110 days compared to 435 days for non-mediated cases.

Mediation won't be right for everyone. Some people will be able to sort out their own disputes without using mediation or going to court, and in certain circumstances – such as with domestic violence or child protection - legal action through the courts may be needed.

Information for anyone considering divorce or separation, advice on some of the support and services available is available at Marriage, civil partnership and divorce

Further guidance on ending a relationship is available at Sorting out separation

Searches for 'divorce' on www.justice.gov.uk increased from 744 in December 2011 to 1,364 in January 2012. There were 692 searches on DirectGov (now part of Gov.Uk) for 'divorce process' in the first week of January 2012, compared to 188 in the first week of December.

For more information please call the Ministry of Justice press office on 020 3334 3536 @MoJ Press.
Published 26 November 2013