Government response
Media reports on UK aid projects: setting the record straight
Response to recent coverage of UK aid in the media.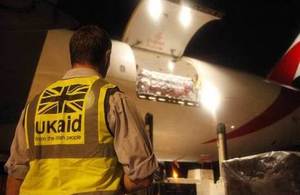 DFID statement
A number of recent newspaper articles have reported claims that misrepresent or inaccurately portray projects supported by the Department for International Development (DFID), or focus on projects that are no longer funded.
UK aid is spent where it is most needed and is subject to rigorous internal and external checks and scrutiny at all stages. The government has realigned the UK's aid strategy, cutting wasteful programmes and making sure spending is firmly in the UK's national interest. Alongside an increased defence budget and the UK's world class diplomatic service, our aid programme is helping to create a more prosperous and stable world in which the UK can stand tall and flourish.
This is an approach that works; it has helped reduce the threat to the UK from Ebola in West Africa, it is targeting the root causes of the migration crisis, and it is increasing economic prospects in fragile states to counter extremism and help build our future trading partners.
Claim
The UK has 'overspent' on its target of spending 0.7% of gross national income on foreign aid.
Fact
This assertion is based on provisional figures only. The provisional overseas development assistance (ODA) figures published on 1 April 2016 forecast that UK spending on ODA will have been 0.71% of gross national income (GNI) in 2015. In reality, we will not know the actual figure until the final ODA figures across government and final GNI figures are analysed and published later in the year. In both 2013 and 2014 the final figures of 0.7% were preceded by higher provisional figures (0.72% and 0.71% respectively).
Claim
DFID has 'rushed money out the door' towards the end of the year so that it can meet the 0.7% aid target.
Fact
This is incorrect. UK contributions to the World Bank and other multilateral institutions, alongside those of other countries, happen at the end of the calendar year, every year.
Claim
DFID aid money is being 'lavished' on private sector contractors.
Fact
This is incorrect. Since 2012 DFID has radically overhauled its approach to using contractors, tightening procurement processes and introducing strict new ministerial controls on how it awards contracts, as well as bringing in a tough new code of conduct. That approach has delivered results, including £500 million of savings. For the last three years running, DFID has won awards from CIPS, the independent professional institute for procurement, in recognition of its commercial best practices.
Claim
There is no proper scrutiny of how DFID spends aid money.
Fact
This is incorrect. DFID's work is scrutinised by the Independent Commission for Aid Impact, the International Development Select Committee and Public Accounts Committee in Parliament, and the National Audit Office. DFID has been recognised as a world-leader in aid transparency. This is in addition to internal monitoring and evaluation to ensure projects stay on track and deliver value for taxpayers' money.
Claim
Aid money from British and European taxpayers is going to Palestinian prisoners including terrorists.
Fact
This allegation is simply incorrect. No UK aid is used for payments to Palestinian prisoners, or their families. Only named civil servants from a pre-approved EU list are eligible, and the vetting process ensures that our funds do not benefit terrorist groups. EU financial assistance is linked to the same vetting process. Our funds are also subject to independent auditing. UK support, alongside Norway, France and Japan, is provided through a multi-donor trust fund administered by the World Bank, which carries out close monitoring of Palestinian Authority (PA) expenditure. UK and international support for the PA is helping to maintain stability, deliver basic services and build the institutions of a future Palestinian state living in peace and security side by side with Israel. The UK does not provide any funding to the Palestine Liberation Organisation.
Claim
UK aid to the Palestinian Authority funded an £8 million presidential palace.
Fact
Incorrect. UK direct financial assistance to the PA is not used for the purpose of capital expenditure and is via a World Bank trust fund, which carries out close monitoring of PA expenditure. No UK aid money has been used to finance a 'presidential palace'.
Claim
DFID has allocated £6 million to the Centre for Global Development (CGD) with the implication in media reporting that this has helped pay for new headquarters in Washington DC costing £12 million.
Fact
Incorrect. Not a penny of British funding has gone to pay for CGD office space. British funding supports research to help children get education and improve health systems, which will ultimately save lives in some of the poorest countries in the world and will support stability.
Claim
A DFID-funded BBC radio drama broadcast in Somalia provided practical tips on how to make the illegal journey from Africa to Europe at the height of the migrant crisis.
Fact
Incorrect. It is entirely wrong to suggest that this programme is urging Somalis to migrate; in fact one of its central messages was about the dangers of migration.
Claim
DFID civil servants are being given high performance ratings so they can be paid 'bonuses' which helps hit the 0.7% aid target.
Fact
Incorrect. DFID civil servants are paid in line with UK Civil Service-wide regulations. The UK government follows international rules on aid spending which cover how salary costs in support of overseas development work are included. DFID has more than halved the proportion of staff eligible for performance awards and slashed the spend on them as a result. The department has reduced its admin budget by a third since 2010.
UK aid strategy: tackling global challenges in the national interest
Recent crises, from our response to the Ebola epidemic to our use of our aid budget to support refugees in Syria and the surrounding region, have proved why aid is so important for us as well as for the countries we assist.
The world is changing, and our strategy on aid needs to change with it. That is why over the last 3 years we have restructured our aid budget to ensure that it is focussed on tackling the great global challenges – from the root causes of mass migration and disease, to the threat of terrorism and global climate change – all of which also directly threaten British interests. They are inextricably linked.
The government will invest more through its aid programme to tackle the causes of instability, insecurity and conflict, and to tackle crime and corruption to help developing countries stand on their own 2 feet. We are determined to ensure that every penny of money spent delivers value for taxpayers, and projects that do not are cut.
With this new strategy, Britain can be proud to be a country that not only meets its responsibilities to the world's poorest, but in doing so best serves and protects its own security and interests.
You can read the full UK aid strategy here. To find out more about DFID's work, follow us on Twitter @DFID_UK or visit our Facebook page.
Published 28 March 2016
Last updated 9 April 2016
+ show all updates
Responses to three further media claims added.
Fact on aid spending added.
First published.