MDGs: Prime Minister to co-chair UN panel on development
The Secretary-General of the United Nations, Ban Ki-moon, has asked the Prime Minister, President Johnson-Sirleaf of Liberia and President Yudhoyono of Indonesia to co-chair the High Level Panel on post-Millennium Development Goals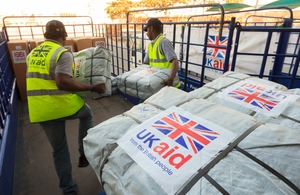 The Secretary-General of the United Nations, Ban Ki-moon, has asked the Prime Minister, President Johnson-Sirleaf of Liberia and President Yudhoyono of Indonesia to co-chair the High Level Panel on post-Millennium Development Goals (MDGs). Together, they will lead a process to start identifying a new international framework for development when the current MDGs expire in 2015.
The UK's own work shows what real changes targeted development aid can make. UK funding saves three million people from poverty each year. It has helped to eradicate smallpox and reduce polio cases from 350,000 a year in 1988 to just 1,500 last year. In addition, UK aid delivered more than 12 million bednets last year, helping to prevent 66,000 children dying from malaria.
The Coalition Government has placed a radically new focus on results meaning that it has been able to set out for the first time the specific results we intend to achieve on behalf of UK taxpayers. For example, over the lifetime of this Parliament the UK will help get 11 million children into school, save the lives of 50,000 mothers in childbirth and vaccinate a child every two seconds.
We have reoriented DFID's work to focus on the private sector and on helping economies to stand on their own two feet. For example, we will help make it easier to do business by reducing barriers, costs and risks of doing business, cutting red tape and expanding markets and trade.
International Development Secretary Andrew Mitchell said:
"Despite the huge progress that has been made through the Millennium Development Goals, hundreds of millions of people will still remain in desperate poverty after 2015. The Prime Minister's role on the UN High Level Panel will bring Britain's first class development expertise to bear in working with others to help shape the world's future efforts.
"We will build on the successes of the current goals and we will also discuss new ideas. The Coalition Government believes that building open societies and open economies, fighting corruption and harnessing private sector investment is vital for poverty reduction and human development. This, for us, is the golden thread of development."
Prime Minister David Cameron, President Johnson-Sirleaf and President Yodhoyono said:
"We are delighted to have been asked by the UN Secretary-General to co-chair the High Level Panel on the post-MDG framework on development. The Millennium Development Goals have shaped the world's approach to international development for a generation, helping to put millions of children into school and save countless lives. We still have some way to go, but we also want to build on what has been achieved so far. In the years since the MDGs were agreed, we have made significant progress and learned many lessons on how to reduce poverty. We now know more about the critical role that economic growth, trade, tackling corruption, effective government and open societies play in creating wealth and unlocking the potential of the poorest countries. We look forward to working together to ensure the full realization of the MDGs, and to listening to many more voices to set out an ambitious, new agenda for ending poverty in the years beyond 2015".
Published 9 May 2012