Press release
McNaughton appointed Chair of UIC inter-city and high speed rail forum
HS2 Ltd Technical Director Prof Andrew McNaughton has been appointed Chair of the Paris-based International Railways Union (UIC) inter-city and high speed rail forum.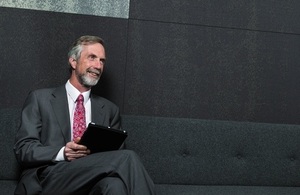 Prof McNaughton's appointment is recognition of his expertise in the world of high speed rail and marks a first for the UIC in that Prof McNaughton is the first Briton to hold the post.
Welcoming his appointment Prof McNaughton said:
I'm delighted and honoured to be appointed Chair for the UIC inter-city and high speed rail forum, which is where the world's high speed rail experts meet to exchange best practice and develop new advances.
The forum covers all aspects high speed rail from technical and environmental to economic and city development.
My election underlines that HS2 is seen as having used knowledge gained from around the world and is now playing its full part in advancing it, the better to unlock all the potential economic and travel benefits of investing in this mode.
HS2 Ltd's role in designing the UK's new high speed rail network has pushed forward the sector's understanding in a number of areas including integration of high speed rail with urban development and regeneration; environmental assessment and mitigation measures; and in the area of technical advancement delivering high reliability on what will be an intensively used high speed railway.
Press and media enquiries
For enquiries during office working hours, Monday to Friday, 9am to 5pm: 020 7944 6149
For enquiries outside of these hours and at the weekend: 020 7944 0550
The press and media enquiries line is for accredited journalists only
Published 27 January 2016