News story
McLaren joins the drive to boost participation in STEM subjects
McLaren Group reveals it will join a government launched campaign to boost participation in STEM subjects.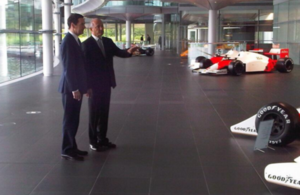 McLaren Group today (26 June 2014) revealed it will join a government launched campaign to boost participation in science, technology, engineering and maths (the 'STEM' subjects).
The campaign – called 'Your Life' – was launched by the Chancellor of the Exchequer, the Rt. Hon. George Osborne MP, who will visit the McLaren Technology Centre later today.
McLaren will continue its efforts to boost the perception of science and engineering amongst young people by carrying the campaign's logo on the McLaren Mercedes car for the British Grand Prix, as well as committing to actively support the campaign in the future.
George Osborne said:
The Your Life campaign is part of a long term economic plan to support our high growth sectors across science, tech and engineering, by bringing together some of Britain's best businesses, institutions and government.

This fantastic commitment by McLaren will help inspire even more young people into well paid jobs in these exciting industries that are essential to our economic prosperity.
Education Minister Elizabeth Truss said:
The Your Life campaign is about inspiring young people, especially girls, to study maths and physics A levels by bringing the subject to life and any McLaren engineer will tell you that you can't build a championship winning car without understanding the maths and science behind aerodynamics.

This is just one example of the exciting careers that these subjects open the door to and why they have the highest earnings. I'm delighted that McLaren, who have a proven track record of encouraging and training the engineers and scientists of the future, are backing the government's campaign to get even more people studying maths and physics.
Ron Dennis CBE, Chairman and Chief Executive of McLaren Group said:
The UK has a rich heritage in science and engineering. It's no coincidence that eight Formula 1 teams are based here in the UK.

But I want to do more. With continued government backing, I think we can grow the number of high tech firms here in the UK, we can rejuvenate our manufacturing industry, and Britain can help tackle the global challenges that confront us. To do that though, we need the brightest and best young people to study science and maths and to choose technical careers. That is why I am proud to support the Your Life campaign.
During his visit to the McLaren Technology Centre, George Osborne will discuss the career paths available in high technology companies with a group of female engineers from across McLaren. He will also meet young women from Waldergrave School, recent winners of the GSK McLaren Scientists in Sport challenge, which is designed to inspire students to continue their STEM education and take up technical careers.
Over 180 leading businesses and institutions have now signed up to the Your Life campaign including Google, L'Oreal, Microsoft, Ford, BP, BSkyB, Airbus, Nestle, Samsung, the Science Museum and now McLaren Group. They have all pledged to do more to highlight the career opportunities open to those studying STEM subjects, with some creating new entry level job opportunities and others extending their outreach programmes.
Published 27 June 2014