Press release
MCA Chief underlines importance of superyacht industry
Sir Alan Massey, Chief Executive of the Maritime and Coastguard Agency (MCA), has outlined the importance of the superyacht industry.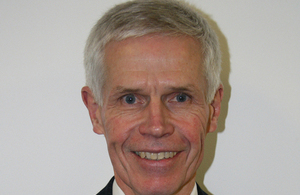 Sir Alan was speaking at the Monaco Yacht Show on Thursday 25 September 2014. He was there representing the UK's Shipping Minister, John Hayes. Also in the UK contingent were Her Majesty's Ambassador to Paris and representatives of the UK Chamber of Shipping, together with the industry body, Superyacht UK.
The MCA is a world leader in maritime administration and the originator of the Large Commercial Yacht Code, LY3, which covers safety for yachts that are more than 24-metres in length. Ensign, the MCA's large yacht services division, offers sector-leading advice and guidance in areas including the LY3 code, the Maritime Labour Convention and Seafarers' Standards.
Opening his presentation, Sir Alan highlighted the commitment and continued support the industry receives from the MCA, on behalf of the Government, which extends to both the surveying and training aspects of the industry.
He outlined new initiatives in yacht engineer officer training, including fully transferrable qualifications between different categories of vessel. He said:
The MCA is one of a very few maritime administrations in the world dealing specifically with yacht qualifications under STCW.
Sir Alan also spoke of his pride in the work the MCA is doing to implement Maritime Labour Convention (MLC) which, he said:
…is so important for the safety and wellbeing of all those who earn their living at sea.
The contribution of the industry to the work of the MCA was also praised. Sir Alan said:
Those of us working in the field of standard setting and regulation are grateful for the solid support we get from industry – including the Professional Yachting Association and others – in collaborating in the industry working groups for LY3 and the Passenger Yacht Code.
With a current focus on coding for passenger yachts – which Sir Alan highlighted as a sector that was clearly growing in confidence with new vessels under construction - the next task for the MCA would be the development of standards for sailing passenger yachts, working with the Superyacht Builders Association.
Sir Alan closed his presentation by saying:
I thank you for the continued support and cooperation with each other, and with the MCA. It is a relationship we welcome and treasure and want to see go from strength to strength.
During the Monaco Yacht Show, detailed information on Ensign was available to visitors and exhibitors; MCA surveyors and its Head of Seafarer Services and Ship Registration were on hand to answer questions relating to current regulations and policies across the field of commercial yacht coding, surveying, training and certification, and United Kingdom ship registration.
Maritime and Coastguard Agency press office
Press enquiries 020381 72222 (Monday to Friday, 9am-5pm)
Outside these hours, for emergency press enquiries only please dial the above number. You will hear a message giving an out of hours pager number.
Published 29 September 2014