World news story
Mayor announcement to forge new trade links with China
Mayor of London announces £1 billion deal to transform Royal Albert Dock into capital's next business district.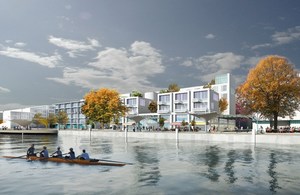 The Mayor of London, Boris Johnson, has announced details of a £1 billion deal to transform London's historic docklands into the capital's next business district, forging new trade links with China and other economies in the Asia-Pacific region and securing billions of pounds of inward investment in the UK economy.
Owned by the Greater London Authority and situated in the heart of Royal Docks Enterprise Zone, the 35-acre site at Royal Albert Dock is set to be transformed by Advanced Business Park (ABP) China (Holding), a successful commercial developer, into a gateway for Asian and Chinese business seeking to establish headquarters in Europe as well as other businesses wanting to set up in the capital.
Historically the trading heartland of the capital, the deal will re-instate the Royal Docks as a commercial and trading centre for the 21st century, delivering around 20,000 full-time jobs and boosting local employment in Newham by 30%. When complete the site will become London's third business district and, according to initial projections, be worth £6 billion to the UK economy, generating £23 million in business rates annually and acting as a catalyst for further development in the area.
The largest development of its kind in the UK, the state-of-the-art business district will act as a platform for financial, high-tech and knowledge driven industries looking establish and drive forward their business in UK and European markets. The deal represents one of the first direct investment by a Chinese developer in London's property market and will eventually be home to over 3.2 million square feet of high quality work, retail and leisure space, including 2.5 million square feet of prime office space, creating a new, vibrant 24/7 district on London's waterways.
An experienced developer in China, this is ABP's first development project in Europe. With a track record of investing in and transforming large areas in need of regeneration, the company specialises in delivering projects of significant scale. ABP have recently completed a large development of around 15 million square feet in Beijing, while their Shenyang project in north-eastern China is even larger, with plans for 75 million square feet when complete.
Working with UK developer Stanhope and architects and masterplanners Farrells, ABP have a commitment to developing a minimum of 600,000 square feet in the first phase, with strong interest for office space already being shown by Chinese companies, including some of the country's top banks. The first occupiers are due to move in 2017.
Mayor of London, Boris Johnson, said:
For centuries the waterways of east London were the throbbing arteries of UK trade and commerce. This deal symbolises the revival of that great era, continuing the re-invention of this once maligned part of the capital into a 21st century centre of trade and investment. Creating a third financial district in the capital, this development will act as a beacon for eastern investors looking west, bringing with it tens of thousands of jobs and billions of pounds of investment for the UK economy.
Chairman of ABP, Mr Xu, said:
I am very pleased and very proud that my company ABP has reached this agreement for the Royal Albert Dock with the Greater London Authority. This project will be hugely significant for both the Chinese and UK economies. My vision is to develop a world class international business district which will initially target Asian businesses to help them secure a destination in London, which in China is seen as the gateway to both the United Kingdom and the wider European economy. Our plans aim to strengthen trade between east and west, provide new local jobs and deliver benefits for the wider London and UK economy.
Situated in the Royal Docks Enterprise Zone, the Albert Dock site, when complete, will have some of the best transport links in the capital, with direct access to central and western London via the new Crossrail station coming in 2018. It also benefits from close proximity to the University of East London and City Airport, providing direct links to Europe's key business destinations.
Published 4 June 2013