World news story
Mauritius International Knowledge Investment Forum 2014 in London
Forum brings together higher education stakeholders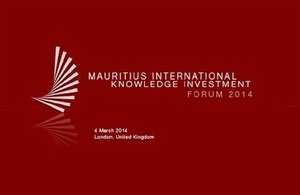 The third Annual 'Mauritius International Knowledge Investment Forum' will be held in London on 4 March 2014. The Forum is organised by the Mauritian Board of Investment with the collaboration of the Foreign and Commonwealth Office. It will bring together education stakeholders and will discuss the emerging trends and opportunities in higher education in Africa and how Mauritius is positioning itself as the education hub of Africa.
This is the first time the Forum is being held outside of Mauritius and the choice of London for the venue is closely linked to the interest of British universities and tertiary institutions in exploring the opportunities provided by Mauritius to set up campuses and to expand into the African market. There are currently more than 25 British awarding bodies and three satellite campuses established in Mauritius, representing a value to the UK of £7million, with more on the way.
The British Government, through the High Commission in Mauritius, has been closely working with the Mauritian authorities to provide the ideal platform to British universities in establishing their presence in Mauritius
High Commissioner to Mauritius Nick Leake said: "I welcome the hosting of the Forum in London on 4 March. Higher education offers many opportunities for British universities in Africa and I look forward to working with Mauritius to create the right conditions to allow these universities to expand"
The agenda for the conference can be found on the MIKIF website.
Published 2 March 2014