Maternal health tops agenda in Washington
DFID will seek the best ways to gather maternal mortality data at the Women Deliver conference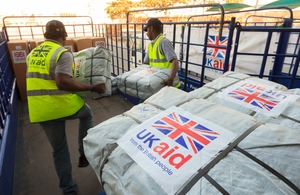 The Women Deliver conference, which gets underway today in Washington DC and runs until 9 June, brings the international community together to seek improved health outcomes for women and children.
This year's special theme is on "delivering solutions for girls and women" and focuses on Millennium Development Goal (MDG) five - to improve reproductive and maternal health.
Delegates from all over the world, including representatives from governments, international institutions, foundations and civil society, are expected to attend the conference. Confirmed speakers include United Nations Secretary-General, Ban Ki-moon, US Ambassador-at-Large for Global Women's Issues, Melanne Verveer, and the Vice President of Malawi, Joyce Banda.
The Bill and Melinda Gates Foundation has pledged $1.5 billion over the next five years to women and children's health. 
DFID officials will host a consultation session of experts from around the world on how better to gather and use maternal and newborn mortality data at the local level. Officials will also participate in sessions on family planning and the UN's drive to advance progress on women and children's health.
Women Deliver is an advocacy organisation that works globally to generate political commitment and finance for MDG five.
Webcasts from the conference will be available on the Women Deliver 2010 website.
Published 7 June 2010