News story
Mary Portas visits Rotherham as part of her high street review
During today's visit Mary Portas will speak to high street businesses, local authorities and shoppers. Business Minister Edward Davey said:…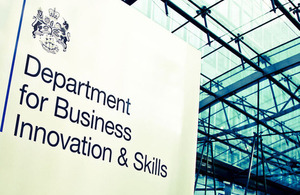 During today's visit Mary Portas will speak to high street businesses, local authorities and shoppers.
Business Minister Edward Davey said:
"The High Street should be at the heart of every community, bringing people together, providing essential services and creating jobs and investment.
"So I am delighted that Mary Portas is visiting South Yorkshire today. An independent study highlighted Rotherham as having the highest level of retail competition of the 200 town centres reviewed.
"I look forward to seeing Mary's final report which will identify what government, businesses and local communities can do to develop more prosperous and diverse high streets."
Mary Portas said:
"We have had a fantastic response to the review so far and received a huge number of ideas. I am actively encouraging everyone who cares about the future of the high street to have their say. I am working through all the ideas in the many contributions received and listening to key stakeholders including big and small retailers.
"My visit to Rotherham promises to be as informative as my recent high street visits. These visits give me the chance to meet important stakeholders and look at the success of local solutions to high street problems."
Rotherham is a historic market town in a borough with a population of 250,000; over 400 businesses can be found in this important town centre. The indoor market complex is home to around 80 permanent stalls and is complemented by themed outdoor markets, a Tuesday street-market and monthly Farmers' Market. Rotherham Interchange welcomes over 120,000 visitors per week.
The independent review is seeking to identify what government, local authorities and businesses can do to promote the development of more prosperous and diverse high streets.
It also forms part of the Government's wider Growth Review which is examining how it can remove the barriers to achieve strong, sustainable and balanced growth that is more evenly shared across the country and between industries.
As part of her review Mary Portas is advising on how government, businesses and shoppers can:
address the problem of vacant shops;
adopt new business models for the high street that fit the needs of the modern shopper;
prevent the proliferation of 'clone towns'; and
increase the number of small and independent retailers doing business in local town centres.
Notes to editors:
---
At the end of 2008, the average town centre vacancy was under 6 per cent. At the end of 2010 it was 14.5 per cent - more than doubling in the space of a year. If the decline continues at this rate in two years time almost a third of UK high streets will be standing empty.

The review was launched at an engagement event held at the Department for Business, Innovation and Skills in May.

To contribute to the review please visit: www.bis.gov.uk/highstreet.

Mary Portas will present the review to the Prime Minister, Deputy Prime Minister and Business Minister Edward Davey by autumn 2011.

BIS's online newsroom contains the latest press notices, speeches, as well as video and images for download. It also features an up to date list of BIS press office contacts. See [http://www.bis.gov.uk/newsroom](http://www.bis.gov.uk/newsroom) for more information.
Notes to Editors
Contact Information
Name BIS Press Office Job Title
Division COI Phone
Fax
Mobile
Email NDS.BIS@coi.gsi.gov.uk
Name William Dingli Job Title
Division Department for Business, Innovation and Skills Phone 020 7215 5950 Fax
Mobile
Published 6 September 2011