Mary Portas to lead review into the future of the High Street
The Prime Minister and Deputy Prime Minister announce Mary Portas to lead an independent review into the future of the High Street.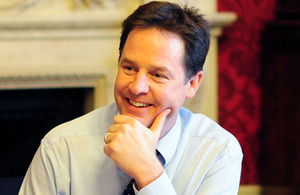 The purpose of the review will be to identify what government, local authorities and businesses can do to promote the development of more prosperous and diverse high streets.
 
It will also form part of the Government's wider Growth Review which is examining how we can remove the barriers to achieve strong, sustainable and balanced growth that is more evenly shared across the country and between industries.
 
Mary Portas is an expert on retail and brand communication.  She is the founder of retail & brand communication agency,  Yellowdoor and has written several books on retailing.  Many will know her from recent television programmes on the subject.
 
Deputy Prime Minister Nick Clegg said it was vital that we examine what steps can be taken to revitalise and reinvigorate high street shopping centres across the country.
I look forward to seeing Mary Portas' final report which will identify what government, businesses and local communities can do to develop more prosperous and diverse high streets.
As part of her review Mary Portas will advise on how Government, businesses and shoppers can address the problems of vacant shops, adopt new business models, prevent the proliferation of clone towns and increase the number of small and independent retailers.
 
Mary Portas will present the review to the Prime Minister, Deputy Prime Minister and Edward Davey, Parliamentary Under Secretary of State for the Department for Business Innovation and Skills (BIS), by autumn 2011.
Published 17 May 2011