News story
Mary Portas makes first town centre visit
Newly appointed leader of a Government commissioned independent review into the High Street, Mary Portas, will spend today visiting the town centres of Rugby and Sparkbrook.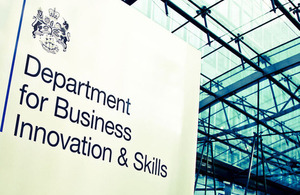 The visits are the first of a number of engagement events Mary will undertake across the country as part of her review.
During today's visit Mary Portas will speak to high street businesses, local authorities and shoppers.
Business Minister Edward Davey said:
"The High Street should be at the heart of every community, bringing people together, providing essential services and creating jobs and investment.
"So I am delighted that Mary Portas will today make her first town centre visits to Rugby and Sparkbrook which are regarded by the Association of Town Centre Managers as exemplars of best practice.
"I look forward to seeing Mary's final report which will identify what government, businesses and local communities can do to develop more prosperous and diverse high streets."
Mary Portas said:
"I am visiting town centres across the country to find solutions for the problems that are blighting our high streets.
"Rugby and Sparkbrook are good examples of suburb towns that face tough competition being on the doorstep of a big city but have found innovative solutions to attract business.
"I hope to draw on the creativity of everyone involved in high streets whether they are independent shop owners, chain store managers, bookmakers, librarians or town centre managers.
"With town centre vacancy rates doubling over the last two years, the need to take action to save our high streets has never been starker."
The independent review will seek to identify what government, local authorities and businesses can do to promote the development of more prosperous and diverse high streets.
It will also form part of the Government's wider Growth Review which is examining how it can remove the barriers to achieve strong, sustainable and balanced growth that is more evenly shared across the country and between industries.
Links.
Published 22 June 2011