Marking the Diamond Jubilee
We are running a range of activities to celebrate the Diamond Jubilee of Her Majesty Queen Elizabeth II, and explain why Britain is such a creative, open, connected and dynamic country to live, work and visit.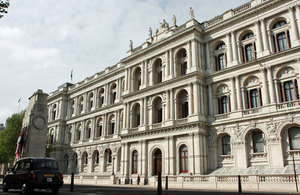 This weekend thousands of people are gathering for Diamond Jubilee celebrations to mark 60 years of Her Majesty the Queen's reign. People all over Britain are holding street parties, lighting beacons and attending festivals, treasuring our shared heritage and coming together for community events. Thousands will line the streets of London on Tuesday 5 June to watch the Queen travel to Buckingham Palace, after a service of Thanksgiving at St Paul's Cathedral.
British missions around the world will mark the Diamond Jubilee with a series of events to celebrate the UK's rich heritage and modern strengths.
One of the first FCO missions to mark the Jubilee was the British Consulate General in New York, with a charity run through Central Park which raised money for the St George's Society and Disabled Sports USA.
On Monday 4 June, our High Commissions and Embassies and Overseas Territories will light a series of beacons at sunset around the world, joining in the beacon-lighting across the UK and continuing a tradition of lighting beacons, first for communications but now as a symbol of unity. In Kenya a beacon will be lit at the resort where the young Princess Elizabeth heard that she had become Queen.
As well as celebrating British tradition and heritage, embassies around the world are showcasing the best of modern Britain. Just two examples: Tokyo will host a Jubilee fashion show and celebrate the UK's long history of creativity and innovation and Mexico City will hold a reception to champion British strength in music and design.
Published 1 June 2012