World news story
Marking International Human Rights Day in Macedonia
This was published under the 2010 to 2015 Conservative and Liberal Democrat coalition government
Ambassador Yvon delivers a keynote speech to mark International Human Rights Day at the Law Faculty in Skopje.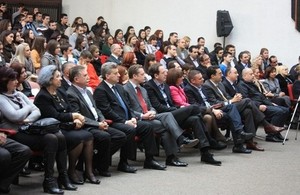 In the presence of the President of the Republic of Macedonia, Dr George Ivanov, the Dean of the Law Faculty and the academic legal community in Macedonia, the British Ambassador delivered a keynote speech on the importance of human rights, at the Solemn Academy of the Law Faculty Justinian Primus in Skopje to mark 10 December, International Day of Human Rights.
In his opening remarks Ambassador Christopher Yvon paid tribute to Nelson Mandela, noting the British Prime Minister's own tribute to Mandela as a true global hero.
Ambassador Yvon spoke about the importance of human rights globally and highlighted the UK's commitments for its forthcoming seat on the UN Human Rights Council, 2014-2016.
He underlined that the British Government's commitments include human rights issues such as preventing sexual violence in conflict, freedom of religion, freedom of expression and the business and human rights agenda:
Over the past few decades, just in my lifetime alone, we have witnessed dynamic changes in the human rights framework. Areas such as enhanced protection for children's rights, rights concerning the fight against discrimination and most recently in the field of disability rights on which the UK was a lead nation in establishing a UN Convention. Building on the UK's advocacy in the UN on women, peace and security we will be taking forward the work inspired by the UK on Preventing Sexual Violence in Conflict. We will also put freedom of religion at the core of our work as we seek to build greater understanding and respect among faiths including through the involvement of civil society. The UK will drive forward the agenda on Business and Human Rights, flowing from the UN Guiding Principles and our work at home to adopt a National Action Plan.
The Solemn Academy was annual event of the Law Faculty Justinian Primus in Skopje held on the International Human Rights Day and served as a platform to highlight the work on human rights, law and democracy.
Document information
Published: 10 December 2013