News story
Four weeks to go until the Great Exhibition of the North begins
Get involved on 25 May and explore what you can look forward to.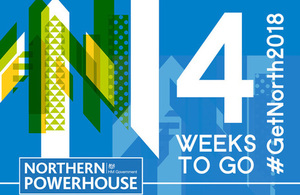 On 22 June the Great Exhibition of the North officially opens. To mark 4 weeks to go, on Friday 25 May we'll be celebrating what the Exhibition will offer for everyone, how you can find out more and plan your experiences when you #GetNorth2018.
Get involved this Friday:
Make sure you follow DCMS and the Great Exhibition of the North on social media (via Twitter, Facebook and Instagram) alongside the #GetNorth2018 hashtag for teasers of what's on offer through behind the scenes highlights from artists and venues, as they prepare for this spectacular summer showcase.
Take part in twitter polls and fun quizzes, throughout the day.
Is your organisation part of the exhibition? Share what exciting events and attractions you'll have in store for visitors alongside the #GetNorth2018 hashtag.
Already planning your visit? Tell us what your looking forward to and why alongside your selfies.
Love the North? Share pics of your favourite Northern landmarks, local food, culture and music to join the conversation.
About the Exhibition
The Great Exhibition of the North is set to be country's biggest event in 2018, with a family-friendly 80-day programme in Newcastle and Gateshead featuring amazing exhibits, live performances, innovation displays, new artworks and unforgettable experiences that culminates in the Great North run on 9 September.
Published 24 May 2018