Marking 20 years since the Siege of Sarajevo
A virtual museum has been launched to mark the 20th anniversary of the beginning of the Siege of Sarajevo.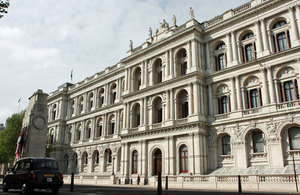 On 5 and 6 April Sarajevo marks the twentieth anniversary of the beginning of the longest siege of a city in modern history. The virtual museum website will bring together documents, oral histories, images, news articles and other artefacts of the siege in an interactive format to users from around the world. The British Embassy contributed to this project which it hopes will provide a modern educational tool for future generations.
City authorities, artists, journalists and civil society organisations have organised numerous public events in the city. War reporters and photographers who reported from Sarajevo during the time of siege are gathering here again to talk about their experiences and meet their friends from Sarajevo, some for the first time in 20 years.
Charge d'Affaires Jo Lomas said of the Embassy's support for this project: 'This is a very innovative and timely initiative. It's important that the facts and personal histories of the Siege are recorded for future generations. In this way we remember and honour those who died during these terrible events. We hope this initiative will also contribute to better understanding and mutual respect in BiH. This is what helps people move forward and twenty years on we think BiH has a lot to be proud of. BiH has a chance this year to make real progress towards EU and NATO membership. We believe that membership of these institutions is the surest way to guarantee that we never again see a repeat of events like the Siege of Sarajevo.'
The 'Siege of Sarajevo' virtual museum will officially open tonight at 11.00 p.m. (UK time).
Published 5 April 2012