News story
Mark Rouse takes over at Dounreay
Mark Rouse is the new managing director of Dounreay Site Restoration Ltd.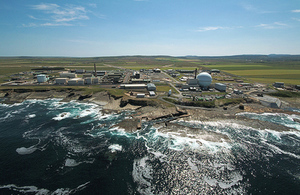 He succeeds Roger Hardy as head of the company carrying out the £1.6 billion clean-up and closure of the nuclear site by 2022-25.
Mark joins DSRL from Babcock International Group where he was Director of Nuclear Safety and Quality for its Marine and Technology Division, which includes the nuclear submarine sites at Devonport, Rosyth and Faslane. DSRL is a subsidiary of the Babcock Dounreay Partnership.
"It is a great challenge and honour to lead the site through the next stage of its journey to closure," said Mark. "Dounreay is setting new standards for decommissioning some of the most complex nuclear legacies and demonstrating the fantastic skillsbase here."
Roger returns to Babcock's nuclear business in London where he is managing director. He retains his role supporting the regeneration of the local economy and becomes board chair of DSRL.
Published 2 April 2013