News story
Mark Prisk Speech - Northern Regeneration Summit, Manchester, October 12
**Introduction ** Good morning. It's a real pleasure to be back in this great city of Manchester. This Conference is considering the prospects…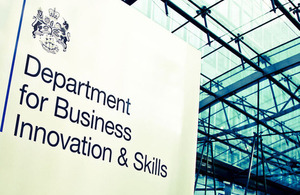 **Introduction **
Good morning. It's a real pleasure to be back in this great city of Manchester.
This Conference is considering the prospects for urban regeneration and economic renewal. So it's appropriate that we should meet here. For in the nineteenth century, it was this area that led the industrial revolution, not the City of London.
Through a combination of energetic entrepreneurs and the emergence of innovative technologies, new industries were born and with them an entirely new economic geography. Wealth creation moved not just between classes, but from the country to the cities, and especially to the cities of the North.
And with that new found wealth came a flourishing of local civic pride. Many great men of that age wanted not just to create wealth for themselves but to help shape their city.
Go to any major town or city and you will find that many of the important civic buildings were funded by the entrepreneurs of that age. The Mechanics Institute here in Manchester is a classic example.
So when I consider the Industrial Revolution I observe three important lessons. First that the geography of our economy is not fixed, but changes as the character of the economy changes. Second, that our economic prospects can be transformed when enterprise is free to innovate. And third, that lasting economic renewal occurs when the civic and business leaders feel empowered to shape their own community.
As a new Government, the Coalition has come to office inheriting a record public sector deficit. And in two weeks time the Chancellor will set out our plans to return the public finances to good health, when he presents the Comprehensive Spending Review for the next four years.
Yet just as important is the need to promote private sector growth and in particular to tackle the large imbalance in our economy, between the greater South East and the rest of the country.
That's why we will shortly be publishing a White Paper setting out detailed policy proposals - designed to promote economic development, and to spread economic opportunity right across the country.
Today I can't pre-empt that paper but what I can do is to set out the direction of our spatial and economic development policies and what it means in practice.
Economic development - a fresh approach
As a former businessman I believe that enterprise is the dynamo that will power our future prosperity, and fuel the innovation that will underpin our future global competitiveness.
However, as the last decade or so has proven we can no longer rely on a small number of sectors, often centred in London and the South East, for our national prosperity.
Instead, we have to encourage innovation and investment across a much wider range of sectors. Advanced manufacturing in disciplines such as plastic electronics, robotics and composite materials; biotech and the life sciences; digital businesses; and emerging low carbon technologies.
And we must nurture and encourage voluntary and social enterprises and build on the significant contribution that they already make to the economy.
These are just some of the sectors that will enable this country to compete in global markets and earn its living in the future.
But to succeed, we also need to rebalance the economy and allow other regions to catch up with the South East, boosting the capability and productivity of every area.
If we are to do that, we need a modern framework for growth and economic development - one that recognises the real economic geography of the country.
Abolition of RDAs
As everyone here will know, the Regional Development Agencies were set up to close the gap between the South East and the rest of the country.
Yet after eleven years and spending £19 billion that gap remains.
Between 1990 and 1999 - the year the RDAs were set up - Gross Value Added growth averaged 2.5% a year in the Greater South East, and 1.9% in the remaining English regions. A gap of 0.6 percentage points.
Between 1999 and 2008, under the RDAs, annual GVA averaged 2.1% in the Greater South East, and 1.5% in the rest of the country. Also a gap of 0.6 percentage points.
In other words, the economic divide between the Greater South East and the rest of England is as wide today as when the RDAs began their work. That by any measure is a failed policy.
Perhaps we should not be surprised.
First of all the boundaries set for most of the RDAs bear little relation to real local economies. Thus Banbury and Dover are in the same 'region' whilst Hertfordshire is deemed not to be in the South East.
Second, the RDAs lack any real democratic accountability to the citizens they are supposed to serve. As a result they have failed to engage people locally or to inspire that any meaningful sense of civic pride, which has previously helped transform local communities.
And third, the RDAs are working in a straight jacket of Whitehall uniformity. Every area must have the same, do the same. Yet different areas have different barriers to growth; different investment needs; and different economic strengths. So attempting to impose the same policy on areas facing radically different challenges is fundamentally misconceived.
Put simply the assumption that the people of Chester and Carlisle share the same economic challenges and priorities is thoroughly misguided and it's one of the reasons this system is failing to deliver.
So it is time for a new approach.
Our objective is to establish a modern framework of economic development. One that distinguishes between strategic national needs and local economic priorities; that believes that freeing enterprise and innovation is vital for growth; and one that empowers local civic and business leaders to determine how to enable their community to create the wealth and jobs.
This new framework has four key foundations:
National economic leadership to underpin the UK's global competitiveness
Enterprise Partnerships to promote local economic development
A Regional Growth Fund to promote private enterprise, especially in those area lacking a strong private sector;
And a better business environment to help all businesses start up and grow.
National Leadership for UK business
The first foundation is strengthening economic leadership in Whitehall for those national priorities which are vital if the UK is to compete. In the past these have (in part) been delegated to the RDAs, which has led to inconsistency and duplication.
For example, we have repeatedly seen the RDAs operating separate teams in overseas cities, competing with each other for the same inward investment. It's wasteful and completely counterproductive.
So, in future, some of the RDAs' functions will be led by central Government, in activities where business needs certainty. These include policies for promoting trade and securing inward investment; investing in R&D and innovation; nurturing high growth sectors; enabling business support; and increasing access to venture capital.
By leading from the centre will be able to provide the consistency in these vital activities which business needs. And we will be able to maximise the value from tighter budgets over this Parliament.
But I am aware of the danger this could become London-centric. That is not the aim. We will provide national leadership in these fields, but we recognise that we will often need to do so working with local partners. After all, a strong national economic framework needs strong local roots.
**Local Enterprise Partnerships **
This leads me on to the second foundation for our new framework. The replacement of RDAs with Local Enterprise Partnerships.
If we are to spread enterprise and economic opportunity across the whole country, we need to empower local communities to shape their own future.
Effective partnerships of local business and civic leaders, who identify with their area and who share an ambition to grow their economy, creating both wealth and jobs.
LEPs must be shaped by the actual economic geography for their area. This could be based on travel to work areas or established city regions. And that means that the size of these partnerships will vary.
I have no problem with that, for what matters is the coherence of the economic area, not a one-size-fits-all dictum from Whitehall.
At the same time we are determined that these are genuine partnerships between business and civic leaders. That means that we would normally expect to see equal representation between public and private, with a leading business person chairing the partnership. Equally they must engage with key stakeholders in the local economy, such as trade unions, or local universities and colleges.
Now the Government is aware of some concerns expressed by business that they have not been properly engaged in the bids for some partnerships. They fear that these LEPs will become lopsided.
So let's be very clear: LEPs will succeed only if the local business community is right at their heart, shaping the vision and setting priorities for action. That is a key criterion against which all applications are being assessed.
Equally, once formed, the new partnerships will have broad discretion to choose their priorities for action in response to local needs. Thus the priorities of a major city like Manchester will be very different from those of Cumbria. Under our approach, local people will decide what matters most.
Indeed many LEPS will want to focus on dismantling the barriers to economic renewal in their particular areas. For business, that is the main concern - not who gets what handouts, but how can we remove the barriers to growth?
That might mean focusing on transport and planning issues in the locality. Making it simpler to redevelop an area, and improving access to nearby markets.
In other LEPs the top priority might be reworking training and skills so they match local employers' needs; or it might be encouraging enterprise and helping fledgling companies get off the ground.
In other words we want to let you decide what matters in your area. To tackle different problems in different areas in different ways.
That means we need to get away from the idea that diversity is somehow a bad thing. It is not. Freed from central control, business and civic leaders can collaborate to support enterprise and bolster the local economy in a way that makes sense for them.
Our detailed proposals for Local Enterprise Partnerships will be in the imminent White Paper - so you don't have to wait much longer.
And I am delighted to say we have already had an enthusiastic response from business people and local authorities, with 58 applications from potential partnerships.
These are being assessed to that ensure they encompass a natural economic area; they include a strong voice for business; have sign-up from the key councils in the designated area; and have an ambitious approach to transforming the area and capturing future growth opportunities.
We will be announcing the initial results of the applications very shortly and that our intention is to proceed promptly because we recognise that LEPs are vitally important to economies across the country and we know how important certainty is for businesses of all shapes and sizes.
Regional Growth Fund
The third foundation of our new framework will be the Regional Growth Fund.
In areas where, historically, there have been high levels of public sector employment, investment in capital projects will be required to trigger a wider renaissance in private enterprise.
The £1 billion Regional Growth Fund, announced by the Chancellor in the Budget, will provide the investment needed to help achieve our goal.
The details of the fund are currently being finalised, and will also be in the White Paper. But all successful bids will have to demonstrate their viability in harnessing private investment to create sustainable private sector growth and jobs.
They will need to show that they can make a lasting difference to the local economy, helping it to diversify and become more resilient in the future.
Lord Heseltine, who kick-started the regeneration of our cities in the 1980s, is chairing the independent panel that will recommend which projects should get the green light. His huge expertise in economic development will be invaluable.
I believe the Regional Growth Fund will be a powerful engine in generating the momentum needed for sustainable, re-balanced economic growth - across the economy and around the country. Helping to create and sustain many more competitive and successful local economies right across the country.
Helping business flourish
The fourth foundation of our framework is to create the best possible business environment for every enterprise: north, south, east and west.
Balanced economic growth - both sectorally and geographically - will never be delivered simply by state-run development agencies. Rather Government's job is to create the right environment in which business can flourish.
That means tackling the huge public sector deficit, not least to give the markets the confidence to continue to lend to and invest in UK plc. Our determination to do this has won the support of both the World Bank and the IMF and it means that interest rates can stay lower for longer.
Yet government can also play its part to make the UK once again one of the best places in which to do - and succeed in - business.
So - within the confines of the current public spending climate - we will invest in the infrastructure networks that UK businesses need to succeed in a global economy. Let me offer two important examples.
First, we have pledged to create the best super-fast broadband network in Europe by 2015 - ensuring businesses are equipped with the tools needed to compete globally. This electronic link is essential to businesses large and small, urban and rural. Indeed it has the capability to end the disadvantage of location for millions of enterprises and entrepreneurs.
Second, we are committed to building the next High Speed rail link. Running from central London it will first reach Birmingham and then in due course continue northwards in a Y - connecting with cities like Manchester and Leeds and ensuring that areas such as the North West and South Yorkshire benefit.
By radically improving travel times this investment will help bring the country closer together and it's a symbol of our determination to narrow the North-South economic divide, once and for all.
Alongside these investments in vital infrastructure, we believe that Government must also create a clear, long-term economic framework, that gives business the confidence to plan and invest for the future.
That's why one of our first tasks was to stop much of the last Government's planned rise in employers' national insurance contributions. The FSB had reckoned Labour's plans could have cost up to 56,000 jobs.
Then in the June Budget, the Chancellor set out his plans to create a simpler, more predictable tax system, one that rewards endeavour. He is cutting the main rate of corporation tax from 28p to 24p over the next four years, so by 2014 we will have one of the most competitive rates in the G20.
To aid entrepreneurs he is reducing the small firms' rate to 20p, rather than increasing it to 22p, as planned by the last Government. New businesses here in the North North - and elsewhere outside the South East - will be exempt from paying the first £5,000 of class one national insurance contributions on each of their first 10 employees during their first year of employment, so aiding their growth. And we have increased the entrepreneur's relief rate for CGT from £2m to £5m. That's a real boon to the hard working men and women who run their own firms and are so vital to local economies.
But we know we need to do more, not least in helping business secure the finance it needs to grow. The lack of bank lending is central to this issue, but it's not the only problem. So we have recently consulted on a wide range of debt and equity finance options, and will be setting out our plans shortly.
And just as importantly for small businesses, we are getting a grip on the unnecessary red tape emanating from Whitehall that strangles firms in this country. That's why we have already introduced a robust system of controlling regulatory costs for business. It's a comprehensive approach which will allow us to first cap, and then reduce, the cumulative burden of bureaucracy that weighs so heavily on the shoulders of business.
---
**Conclusion - **Ladies & Gentlemen
This Coalition Government is determined to ensure that we see sustained and sustainable growth in this country over the coming years.
To do that we must also re-balance the economy.
It starts with effective leadership by Government to free enterprise and give business the infrastructure and incentives it needs to grow.
It means building our future economy on many sectors, not just a few.
It means ensuring that every area can participate and grow.
It means creating economic partnerships which represent the real economy, not a neat, uniform map in Whitehall.
And it means enabling local business and civic leaders to shape their communities to tackle their problems, their way.
When I look back at what was achieved over one hundred years ago it gives me confidence that, working together, we can once again renew our economy and enable it to change to meet the challenges of the future.
It won't be easy, but then nothing worthwhile ever is.
Notes to editors
BIS' online newsroom contains the latest press notices, speeches, as well as video and images for download. It also features an up to date list of BIS press office contacts. See http://www.bis.gov.uk/newsroom for more information.
Notes to Editors
Contact Information
Name BIS Press Office Job Title
Division COI Phone
Fax
Mobile
Email NDS.BIS@coi.gsi.gov.uk
Name Una Flynn Job Title
Division Department for Business, Innovation and Skills Phone 020 7215 5256 Fax
Mobile
Email Una.Flynn@bis.gsi.gov.uk
Published 12 October 2010