News story
Mark Prisk meets with Oxfordshire local enterprise partnership as it formally launches board
The partnership is now completely formed, after ministers approved the partnership's board. The board consists of local business people, academics…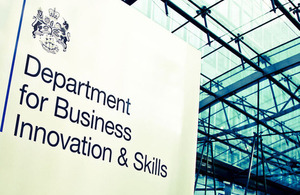 The partnership is now completely formed, after ministers approved the partnership's board. The board consists of local business people, academics and civic leaders.
The Oxfordshire partnership is the fifth partnership to appoint its board.
Mark Prisk said:
---
"Local enterprise partnerships will be key to enabling local communities to thrive and will play a very significant role in boosting growth. The Oxfordshire partnership is a very good example of a partnership that has got off the ground quickly. It is ready to start work on their priorities, including rebalancing the economy from the public to the private sector, by addressing skills, business support and infrastructure.
"The board members I met today have exceptional local knowledge and we discussed their ideas for the future. I have every confidence that this partnership will be a success.
"We have made clear that we want to hand power over from Whitehall to local people, local businesses and local communities. I believe they are best placed to drive forward change for the better in their areas."
---
Dr Martin Dare-Edwards, Chairman of the Oxfordshire local enterprise partnership said:
"We are very excited about this opportunity to meet with Mr Prisk and share with him our passion for the future. In granting our region Local Enterprise status, the Government has shown it recognises the importance of Oxfordshire as one of the UK's most vital centres for economic and business development. This will be an important opportunity to show the Minister what we have already achieved in establishing the partnership, and what we hope to achieve in the future with Government backing."
Mark Prisk met with the local enterprise partnership at the Ashmolean Museum, the first public museum and home to the University of Oxford's world-class collections of art and archaeology.
At the museum the Minister also met Mark Beard, managing director of the construction company Beard who are currently refurbishing the museum's Egyptian Galleries in a £5million project which is due to be completed later this year.
Local enterprise partnerships bring together local business and civic leaders, working to support their local economy. They will operate within a geography that reflects natural economic areas and will provide the vision, knowledge and strategic leadership needed to drive sustainable private sector growth and job creation in their area.
Notes to editors:
The Oxfordshire local enterprise partnership contains 640,300 residents and 29,515 active enterprises (so 46.1 enterprises per 1,000 residents). It has 317,300 residents in employment (aged 16-64) and an unemployment rate of about 3%. The public sector accounts for 18.7% of employee jobs

Oxfordshire local enterprise partnership board consists of:
Dr Martin Dare-Edwards, Infineum;
Adrian Shooter, CBE, Chiltern Railways;
Professor Ian Walmsley, Oxford University;
Councillor David Robertson, Oxfordshire County Council;
James Dipple, Director, MEPC, Milton Park;
Jonathan Lloyd-Jones, Chairman, Blake Lapthorn;
Stuart Miller, CEO, ByBox;
Tony Stratton, Chairman, CPM and Oxford Inspires;
Ian Wenman FCA, FCCA, MIoD;
Sally-Ann Forsyth, Goodman/HSIC;
Professor Colin Whitehouse, Science and Technology Facilities Council;
Lt Gen Andrew Graham, CBC, Ministry of Defence;
Councillor Ann Ducker, MBE, South Oxfordshire District Council;
Councillor Bob Price, Leader of Oxford City Council;
John Francis, Oxford Brookes University; and
Sally Dicketts, Principal, Oxford and Cherwell Valley College.
In September 2010 the Government received 62 responses to its invitation to form local enterprise partnerships. The 31 partnerships approved since October are:
Black Country
Birmingham & Solihull with E. Staffordshire, Lichfield & Tamworth
Cheshire and Warrington
Coast to Capital
Cornwall & the Isles of Scilly
Coventry & Warwickshire
Cumbria
Enterprise M3
Gt. Cambridge & Gt. Peterborough
Greater Manchester
Hertfordshire
Kent, Greater Essex & East Sussex
Leeds City Region
Leicester & Leicestershire
Lincolnshire
Liverpool City Region
London
New Anglia
North Eastern
Nottingham, Nottinghamshire, Derby, & Derbyshire
Oxfordshire
Sheffield City Region
Solent
South East Midlands
Stoke-on-Trent & Staffordshire
Tees Valley
Thames Valley Berkshire
The Marches
West of England
Worcestershire
York and North Yorkshire
Taken together, these 31 partnerships represent:
1.8m or 87% of all businesses (active enterprises) in England
20m employees (employee jobs figures) or 68% of all employees in England and;
A population of 45m or 87% of England's population.
A map of approved local enterprise partnerships is available from http://geocommons.com/maps/32888

Proposals for partnerships were assessed in line with the expectations set out in the 29 June 2010 letter from the Business Secretary and the Secretary of State for Communities and Local Government: http://www.bis.gov.uk/assets/biscore/regional/docs/10-1026-final-letter-local-enterprise-partnerships

Specifically, the Local Growth White Paper proposes that local enterprise partnerships will be able to consider a diverse range of roles, reflecting the differing local priorities in different areas, including:
working with Government to set out key investment priorities, including transport infrastructure;
coordinating proposals or bidding directly for the Regional Growth Fund;
Supporting high growth businesses;
Participation in the development of national planning policy and ensuring business is involved in the consideration of strategic planning applications;
Lead changes in how businesses are regulated locally;
Strategic housing delivery, including pooling and aligning funding streams;
Working with local employers, Jobcentre Plus and learning providers to help local workless people into jobs;
Coordinating approaches to leverage funding from the private sector;
Exploring opportunities for developing incentives on renewable energy projects and Green Deal; and
Involvement in the delivery of other national priorities such as digital infrastructure.
Revised proposals from partnerships which have not yet been approved will be welcomed by Government as they become ready_. _

The local enterprise partnership capacity fund will help the partnerships to understand business issues in their area. The fund will be £4m over four years, and ministers are seeking bids which address gaps in intelligence available to partnerships; facilitate business engagement and interaction with partnerships; or boost board capacity to prioritise actions which will support business-led growth and jobs within a partnerships' area. The closing date for bids to the first round is March 31.

BIS' online newsroom contains the latest press notices, speeches, as well as video and images for download. It also features an up to date list of BIS press office contacts. See [http://www.bis.gov.uk/newsroom](http://www.bis.gov.uk/newsroom) for more information.
Notes to Editors
Contact Information
Name BIS Press Office Job Title
Division COI Phone
Fax
Mobile
Email NDS.BIS@coi.gsi.gov.uk
Name Joanna Fletcher Job Title
Division Department for Business, Innovation and Skills Phone 020 7215 5951 Fax
Mobile
Published 8 March 2011