News story
Mark Prisk meets mentors and businesses in Watford
On Monday Mr Prisk and Business Secretary Vince Cable announced a new gateway to provide access to mentoring for small businesses by bringing…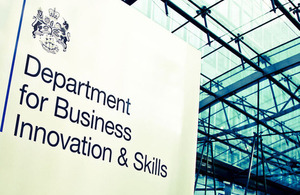 On Monday Mr Prisk and Business Secretary Vince Cable announced a new gateway to provide access to mentoring for small businesses by bringing together mentoring organisations into a single network. A single website will put small businesspeople in touch with appropriate mentors.
The announcement marked the launch of Global Entrepreneurship Week along with a new entrepreneurship forum for the Business Secretary. Dr Cable has called for more businesses to sign up to the network.
In today's visits Mr Prisk met with several companies that have received start-up support and a business mentor through youth charity The Prince's Trust. He discussed what worked in their relationship and what improvements could be made for the new network.
Business and Enterprise Minister Mark Prisk said:
"As a former small business owner I understand the importance of good advice and learning from experienced businessmen and women. Mentors play a crucial role in helping new firms and our new mentors' network and portal will be extremely useful to budding entrepreneurs."
The businesses involved included a music agency, transport management service and a heating and plumbing firm.
Notes to editors:
The mentoring network has been developed in response to the needs of entrepreneurs and small business across the country. The Annual Small Business Survey 2007/08 found that firms that used external advice in the last 12 months were twice as likely to have grown their workforce; and over 50 per cent more likely to be aiming to grow their business in the next two to three years than those that had not used advice.

Over 40,000 mentors of all ages, skills and location will be available for guidance. Organisations such as Horsesmouth and Ecademy have pledged mentors to the network, and for the first time mentors and mentees will have the confidence that every organisation in the mentoring network is signed-up to a shared code of conduct

Vince Cable and Mark Prisk outlined details of the new mentoring network at the launch of Global Entrepreneurship Week at Google Headquarters in London.

Global Entrepreneurship Week is a joint initiative developed and led through a partnership between the Department for Business, Innovation and Skills (supported by Enterprise UK) and the Kaufmann Foundation in the US.

GEW is a key focal moment in the drive to build a strong enterprise culture, with competitive open markets and the pursuit of global trade and investment. Events held as part of GEW aim to inspire, inform and support both budding and relatively new entrepreneurs.

The Prince's Trust helps change young lives in the UK through practical and financial support, developing skills as well as confidence and motivation. Since the charity was founded by HRH The Prince of Wales in 1976, it has helped over 600,000 young people across the UK and continues to support 100 more every working day.

Attendees were:
Graham Ball, Regional Director, The Prince's Trust - East of England Region,

Matt McBryde, Head Programmes, The Prince's Trust - East of England

Matthew Leach, Founder of Transport Associates

Des Salmon, Mentor to Matthew Leach

Henry Humphreys, Founder of MHV Ventures

Steve Revill, Mentor to Henry Humphreys

Matthew Ridout, Founder of Ridout's Plumbing and Heating

Don Kiddle, Mentor to Matthew Ridout
BIS' online newsroom contains the latest press notices, speeches, as well as video and images for download. It also features an up to date list of BIS press office contacts. See http://www.bis.gov.uk/newsroom for more information.
Notes to Editors
Contact Information
Name BIS Press Office Job Title
Division COI Phone
Fax
Mobile
Email NDS.BIS@coi.gsi.gov.uk
Published 17 November 2010