News story
Mark Prisk explores finance options for smaller firms
The Government is committed to increasing the range of finance options available to businesses that are often reliant on bank lending for credit…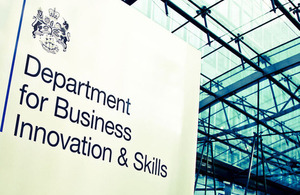 The Government is committed to increasing the range of finance options available to businesses that are often reliant on bank lending for credit. The green paper, Financing a Private Sector Recovery, looked at several alternative means of obtaining finance to ensure businesses are able to grow and boost the recovery. It aimed to start a dialogue with businesses and the financial services industry to develop and support alternative means of finance for small businesses.
The consultation period for the green paper closed on Monday 20 September and the Department for Business and the HM Treasury received over 160 responses. Today's meeting marked the first stage of working with industry on ideas generated by the paper and the consultation process.
Supply chain finance has several forms but in most cases it involves a buyer organising finance based on its credit rating and on invoices approved for payment to suppliers; ensuring that businesses further down the supply chain are able to cover their working capital while waiting for payments.
Business Minister Mark Prisk said:
"Small businesses will be critical to the economic recovery and helping them access a range of finance options is essential for those firms looking to expand and grow.
"We want to work with business to find the best solutions for increasing finance to small firms, who have previously relied on banks for their finance. I am delighted to see the responses to our finance green paper suggesting alternatives to traditional bank lending, from which today's discussion on supply chain finance has emerged.
"Today's meeting was informative and useful. Supply chain finance is clearly an option that all large corporates should consider providing. It is one option that could help plug the funding gap of their suppliers while looking to cover working capital as they await payments. I look forward to further productive discussions on other finance options."
Notes to editors
Supply chain finance (SCF) is a term used to define the financial relationship linking the buyer and the supplier together in terms of payables and receivables. Several options and solutions are available in the market today, each with a variation on the offering.

Within a SCF solution there are typically four involved parties:
The buying organisation "the buyer"
The organisation supplying goods / services "the supplier"
A technology platform "the technology or system"
A funding institution "the funding provider or investor" (can be internal, external or institutional)
Government will be setting out its response to the green paper, Financing a Private Sector Recovery, shortly.

BIS' online newsroom contains the latest press notices, speeches, as well as video and images for download. It also features an up to date list of BIS press office contacts. See http://www.bis.gov.uk/newsroom for more information.
Notes to Editors
Contact Information
Name BIS Press Office Job Title
Division COI Phone
Fax
Mobile
Email NDS.BIS@coi.gsi.gov.uk
Published 28 September 2010