Press release
Mariner field opens new chapter in UK oil and gas development
The UK Government has today given Statoil consent to drill one of the biggest developments ever in the North Sea.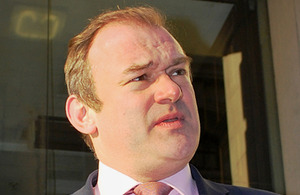 Press Notice: 13/016
The UK Government has today given Statoil consent to drill one of the biggest developments ever in the North Sea.
The development of the £4.6 billion Mariner heavy oil field has been made possible through partnership between government and industry, together with targeted tax breaks. At its peak it is expected to produce around 55,000 barrels of oil per day, five per cent of UK daily production. There will also be substantial opportunities for UK jobs over the 40 year operational phase of the project, both in construction and operations.
UK Energy and Climate Change Secretary Edward Davey said:
"North Sea oil and gas is a vital asset. It provides energy security for the UK, reduces our reliance on volatile international energy markets and supports hundreds of thousands of jobs across the country.
"Mariner will be one of the biggest projects ever in the North Sea and the £4.6billion commitment over 40 years from Statoil is a vote of confidence in the future of UK oil and gas. Importantly, unlocking heavy oil production marks a new chapter in development, opening the potential for five per cent of our oil reserves.
"The Government is working hard with industry to ensure North Sea oil and gas continues to provide energy security and jobs. Our efforts to get unused fields into production, a fiscal regime that encourages investment – together with new, advanced technology - is extending UK oil and gas production beyond what was thought possible.
"The result is that North Sea investment is at an historic high, with Mariner joining an ever growing list of recent field approvals."
Notes for editors
Mariner was discovered in 1982, but development could not be progressed at the time because of the technical challenges involved in developing this dense and viscous oil offshore. With technology developments in the1990s (in particular horizontal drilling and improved well completion techniques) development became more attractive, but progress remained slow. In 2005, the Department declared Mariner fallow, which facilitated a realignment of licence interests, the acquisition of new seismic in 2008 and the submission of a Field Development Plan in September 2012.

"Heavy" oil is oil that has high viscosity and does not flow well.

For more information on the Mariner field see Statoil press notice.
Published 15 February 2013