News story
Margate man has prison term increased for stabbing attack
A man who carried out a stabbing attack outside the Lido club in Margate last year was today sentenced to an increased prison term by the Court of Appeal.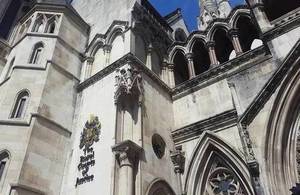 Jonas Bily attacked and stabbed another man 3 times in the back and shoulder outside a party in an unprovoked attack. He was sentenced to 18 months' imprisonment after pleading guilty to wounding with intent Canterbury Crown Court last year.
At a hearing today, the Court of Appeal quashed this sentence and raised his jail term to 5 years' imprisonment.
Solicitor General Robert Buckland QC MP referred the sentence, and speaking after the hearing today said:
"This was a sustained, vicious assault and more serious injury was only prevented by the intervention of other bystanders. It is very important that those who use and carry knives receive appropriate prison terms for these crimes.
"I viewed Bily's sentence as unduly lenient and am pleased the Court has seen fit to increase the time he will spend in jail."
Published 5 February 2016