News story
Manufacturing summit to champion growth
The Manufacturing Summit will be hosted by Business Secretary Vince Cable and Business Minister Mark Prisk with a range of other Ministers in…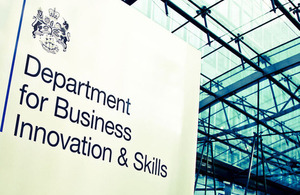 The Manufacturing Summit will be hosted by Business Secretary Vince Cable and Business Minister Mark Prisk with a range of other Ministers in attendance.
The event will bring together Government and key industry leaders to discuss and debate progress, the upcoming challenges and next steps for the sector as the Government continues to put manufacturing at the heart of its Growth Programme.
Held at Bristol and Bath Science Park, the Summit will include a series of interactive break out sessions chaired by Department for Business, Innovation and Skills (BIS) Minsters that will share and explore steps the Government is taking to identify short and long term growth opportunities for manufacturing.
Sessions include:
Promoting manufacturing
Commercialisation of technology__
Apprenticeships
University Technology Colleges: opportunities for manufacturers
Access to Finance
Exports__
A showcase demonstrating the best of local high technology manufacturing, organised by the West of England Local Enterprise Partnership, will also run throughout the one day summit.
**Business Secretary Vince Cable said:
**"Manufacturing has a pivotal role to play in rebalancing the economy, as a confident and healthy manufacturing sector is at the heart of the future growth for UK PLC.
"Building on this country's strengths, we are working with businesses to support and grow the UK's manufacturing capabilities, encourage innovation, develop supply chains, promote exports, business investment and improve skills.
"Our Manufacturing Summit creates the perfect platform for us to further strengthen our relationship with industry, and, more importantly, hear what its leaders have to say."
Taking place on February 23, the Manufacturing Summit builds on the success of last year's event held at the BIS Conference Centre in London, and follows recent news that the sector expanded at its fastest pace since March 2011.
Business Minister Mark Prisk said:
**"Worth approximately £130 billion a year and employing 2.5 million people, the manufacturing sector makes a significant contribution to the UK's economy.**
"This is why we are hosting the Manufacturing Summit for a second year running to not only celebrate the importance of the sector, but also share and discuss the action Government is taking now to support businesses - from the £2.4 billion Regional Growth Fund and new Manufacturing Advisory Service to tackling outdated perceptions of the sector with our Make it in Great Britain campaign."
Bonnie Dean, Chief Executive of the Bristol & Bath Science Park, said:
"We are delighted that BIS has chosen to hold its second Manufacturing Summit at the Science Park. On the Park and in the immediate vicinity are some of the most advanced and research-led manufacturing companies in the world. The conference is an excellent opportunity to exchange information and to explore new ideas."
To find out more about the steps the Government is taking to support manufacturing, visit http://www.bis.gov.uk
---
Notes to editors:
---
BIS's online newsroom contains the latest press notices, speeches, as well as video and images for download. It also features an up to date list of BIS press office contacts. See http://www.bis.gov.uk/newsroom for more information.
Notes to Editors
Contact Information
Name BIS Press Office Job Title
Division COI Phone
Fax
Mobile
Email NDS.BIS@coi.gsi.gov.uk
Name Andy Aston Job Title
Division Department for Business, Innovation & Skills Phone 0207 215 6963 Fax
Mobile
Published 3 February 2012