News story
Manufacturing summit held to grow UK industry
While the UK is a world leader in making high-tech products and the latest figures show that manufacturing growth has reached a 16-year high…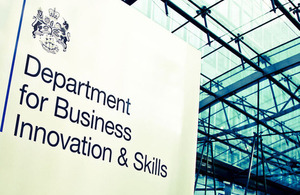 While the UK is a world leader in making high-tech products and the latest figures show that manufacturing growth has reached a 16-year high, there is concern that the outdated image of the sector is restricting its ability to attract the best talent creating a barrier to growth.
To help address these challenges Nick Clegg and Vince Cable have asked UK businesses manufacturing cutting edge products to throw open their doors for a day to students and teachers. This week-long national event would be the first of its kind and will offer an exciting insight into engineering and manufacturing.
Deputy Prime Minister Nick Clegg said:
"I want our young people to see that British manufacturing offers well-paid and rewarding careers. Not many of them will know that many electrical engineers are almost as well paid as lawyers and solicitors.
"Throwing open the doors of our factories to the engineers of tomorrow will show them the satisfaction of making things is hard to beat."
Business Secretary Vince Cable said:
"I was shocked to hear that a recent survey found 49 per cent of 7 to 11-year-olds think it would be boring to be an engineer. They could not be more wrong.
"That's why Government and industry agree that we have to improve the image of manufacturing if we are to attract the brightest and best into industry.
"Holding a factory doors open week will help us dispel the myth about engineering jobs, and show they are challenging, exciting and well paid."
Today's event and responses to the Manufacturing Framework will feed into the Advanced Manufacturing strand of the Government's Growth Review which will announce policy proposals at Budget 2011.
There was a boost for industry when Skills Minister John Hayes announced today a new National Skills Academy (NSA) for Composites and Biotechnology. The Academy, which will form part of the National Skills Academy for Process Industries, will receive up to £1.98 million of funding over three years, matched by employers. It will work with employers, the Life Sciences Advisory Council, the National Composites Centre and specialist training providers to develop new professional standards and training programmes that meet the fast evolving skills needs of these hi-tech industries.
Notes to editors
Will Butler-Adams, of Brompton Bikes, said:
---
"There is common misconception that there is no manufacturing in the UK, yet we are one of the largest manufacturers in the world; leaders in Formula 1, Aerospace, Defence and of course Folding Bikes to name a few; contributing some 18% GDP.
"What is worrying is where the next generation of manufacturers will come from. When a group of 14-19 year olds were recently asked to name a living engineer they came up with the mechanic off Coronation Street!
"The personal pride and recognition of the title 'Engineer' has been whittled away in the last fifty years and this needs to be revived to bring the brightest minds back into making things and delivering real value to UK PLC.
"I hope that the recent interest shown by our government in manufacturing as a real contributor to our economy and society will be sustained, giving it time to bear fruit."
---
Joe Greenwell, Chairman, Ford of Britain said:
---
"This year Ford celebrates its 100th year of manufacturing in the UK, and we announced a further £1.5bn of UK investments last year. This investment is focused on the development and application in production of low carbon automotive technologies.
"Manufacturing is an important wealth creator and a significant contributor to Britain's economic growth.
"The future for UK manufacturing lies in deploying advanced technologies, in creating high value-added products and in attracting our home-grown talent.
"Ford has a long track record of working closely with schools and colleges, helping to foster the apprentices, technicians and engineers of the future."
---
---
Andrew Reynolds Smith, Divisional Chief Executive, GKN plc said:
---
"The government's growth agenda is an important building block in accelerating the recovery of the UK economy. Within that agenda, the Manufacturing Summit will play an important part in understanding the barriers to growth as well as providing a better understanding of the importance of investment in key technologies, skills and capital equipment. Importantly, it will also emphasise the huge importance of the economies of Brazil, India and China and their influence on the future direction for UK business."
Martin Temple CBE, Chairman, Engineering Employers Federation said:
"With the public sector set to play a smaller role in the economy, Britain needs a stronger private sector to generate the growth, investment and job creation which are so vital to our economy. Manufacturing will play a leading role at the heart of this new economy and today's summit is a welcome first step in focussing on the growth strategy we need to make this happen.
"Industry must also play its part, especially in attracting the brightest and best into our sector. The Open Days are a valuable opportunity for companies to show off their success and I would urge every manufacturing company to throw open their doors to their local community."
---
Melanie Leech, Director General, The Food and Drink Federation said:
---
"The good news is that the UK's biggest manufacturing sector - food and drink - is still performing strongly. Despite uncertainty among member companies about the state of the economy, they have not cut their investment or delayed taking products to market.
"But like Government, we feel there is more potential to unlock in our sector - from tackling issues as diverse as changing the public perception of manufacturing to accelerating export growth - and we look forward to contributing to these discussions at today's Summit and identifying ways of working with Government to ensure the future success of food and drink manufacturers."
---
Martin Lowson FREng, President, ULTRA Prt, said:
---
"My career as an Engineer has been extremely rewarding. Making new things work well is very challenging and extraordinarily satisfying."
---
Dr Henri Winand, CEO, Intelligent Energy said:
"Intelligent decisions need to be made about low carbon technology and events such as the Advanced Manufacturing Growth Summit 2011 play a crucial role in showcasing low carbon manufacturing excellence in the UK.
"Intelligent Energy has experienced high levels of growth, commercial progress and technical achievement in 2010 as evidenced by its lead role in delivering a fleet of zero emissions Fuel Cell Black Cabs in time for London 2012. As a former university spinout, Intelligent Energy has retained a vision to bring clean power systems to the masses and is proud to kick off 2011 by exhibiting its technology alongside other UK low carbon manufacturers with the same goal."
Manufacturers who want to contribute to the Review can respond directly to the following mailbox - amgr@bis.gsi.gov.uk

The fourth of BIS's exhibitions showcasing low carbon manufacturing was unveiled at BIS, 1 Victoria Street, today to launch the summit. Exhibits demonstrating how the UK is a world leader in manufacturing include:

Gilbert Gilkes and Gordon Ltd exhibiting a model of a hydro-turbine to generate electricity;
ULTra PRT (originally Advanced Transport Systems Ltd) exhibiting an electric vehicle designed to transport airport passengers;
Intelligent Energy Ltd exhibiting a hydrogen fuel cell motorbike;
Kensa Engineering Ltd exhibiting a ground source heat pump capable of handling space heating and domestic hot water production;
Aquamarine Power exhibiting a working water tank demonstrator. The Scottish wave energy company is currently developing its flagship technology, an innovative hydro-electric wave energy converter, known as Oyster;
Tata Steel Europe Ltd exhibiting innovative tubing to transport oil and gas as well as train tracks that reduce noise pollution;
Brompton Bikes exhibiting two of its British designed and manufactured lightweight, compact bicycles

National Skills Academies provide an opportunity for employers to set out and invest in developing an approach which meet the needs of their sector. There are currently 18 National Skills Academies in various stages of development and 15 in operation: Manufacturing; Construction; Financial Services; Food and Drink Manufacturing; Nuclear; Process Industries; Hospitality; Creative and Cultural; Sports and Active Leisure; Retail; Enterprise; Social Care; and Materials, Production and Supply; Information Technology and Telecommunications; and Power.

BIS' online newsroom contains the latest press notices, speeches, as well as video and images for download. It also features an up to date list of BIS press office contacts. See http://www.bis.gov.uk/newsroom for more information
Notes to Editors
Contact Information
Name BIS Press Office Job Title
Division COI Phone
Fax
Mobile
Email NDS.BIS@coi.gsi.gov.uk
Name Rebecca Murrell Job Title
Division Department for Business, Innovation and Skills Phone 020 7215 6403 Fax
Mobile
Published 25 January 2011