News story
Manufacturers open doors to next generation of engineers
Students across the country will get the chance to see one of the UK's vanguard industries today (29 June) as companies in the automotive sector throw open their doors in a pilot for a new government initiative.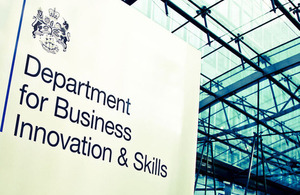 As part of the See Inside Manufacturing programme, the Government and industry are calling on the budding young engineers of tomorrow to see how they can play a role in designing, developing or producing some of the world's most desired and ground-breaking products.
The automotive sector is spearheading the campaign this year inviting pupils, teachers and careers advisers to see first hand some of the UK's world-class automotive and motorsport facilities and research centres.
They will be able to talk to apprentices and learn more about modern high-value manufacturing and the wide range of rewarding jobs in this exciting and diverse sector.
The full schedule of activities is available on the Automotive Council website.
Business Secretary Vince Cable said:
"The UK has one of the most diverse auto sectors in the world. It is vital for us to enthuse the next generation about the opportunities these industries have for them.
"Anyone who visits the research labs or production facilities that drive our economy cannot fail to be impressed. This initiative will give thousands of school pupils and their teachers an experience they may never forget.
"I hope the people who take advantage of this opportunity leave with a better understanding of how they can aspire to be part of the success story of British automotive manufacturing."
Minister for Manufacturing Mark Prisk said:
"Today teachers and careers advisers across the country will get a unique opportunity to see the excitement and sense of achievement that careers in industry could bring to young people in their working lives.
"Our manufacturing industries are known around the world for high-tech, high-quality products. Some of these are brands recognisable to millions, but we are also known for the smaller firms who have carved out a niche in which their skills and innovation are unmatched.
"To secure long-term growth in the UK we must make sure the next generation has both the skills to succeed and the aspiration to use these skills to unlock their own potential."
More than 35 companies and organisations from the automotive sector including some of the most well known names in the Britain's car industry are supporting See Inside Manufacturing. The automotive sector is trailblazing this year and it is expected that See Inside Manufacturing will be rolled out to the wider manufacturing sector next year.
Links
Full press release
Automotive Council UK - See inside Manufacturing (no longer available)
Related news article - Inspiring the scientists of the future
Published 29 June 2011