News story
Manufacturers open doors to careers
See Inside Manufacturing involves businesses from across the food & drink, aerospace & defence and automotive sectors who will open their doors…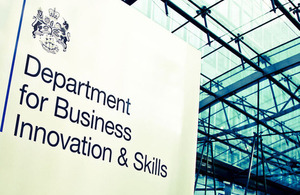 See Inside Manufacturing involves businesses from across the food & drink, aerospace & defence and automotive sectors who will open their doors for over 100 events throughout June to show young people, teachers and careers advisers what exciting opportunities exist in 21st century manufacturing.
Thousands of people are expected to visit iconic names such as Coca Cola, Mars, Warburtons, Aston Martin, BMW, Jaguar Land Rover, Airbus and GKN Aerospace over the coming weeks and get hands on with the latest designs and technologies that make Britain one of the world's leading manufacturing nations.
The Business Minister visited Coca Cola Enterprises in Edmonton, London where he joined pupils from Uxbridge College to see for himself how the famous drink is made.
Mr Prisk said:
"This year See Inside Manufacturing is bigger and better following the success of its pilot last year in the automotive sector - when over 1000 people visited 100 events across the country to learn more about the exciting opportunities available in manufacturing.
"Now with the aerospace & defence and food & drink businesses taking part, we have our biggest ever opportunity to help change perceptions of manufacturing and give people a taste of what the industry is like today. I encourage as many people as possible to get involved and come along to one of the many events taking place throughout June.
"The See Inside Manufacturing programme complements the work of our Make it in Great Britain campaign, which is challenging the perceptions that we don't make anything in this country anymore, and will culminate in an exhibition at the Science Museum during the Olympic and Paralympic Games."
Managing Director of Coca-Cola Enterprises Simon Baldry, said:
"CCE is committed to the development of young people, and we are fully supportive of Government efforts to educate the next generation about the world of manufacturing. We already have an established programme of initiatives and dedicated staff working to provide a valuable insight into our business, as well as the wider industry.
"In addition to the Edmonton facility, we have four other factory-based Education Centres at our sites across the UK, hosting around 20,000 students a year. Through these centres and our annual national education competition, the Real Business Challenge, we have built excellent relationships with schools throughout the country and hope to inspire more students into manufacturing and to become the business leaders of the future."
See Inside Manufacturing sees Government working with industry and is being held in association with the Food and Drink Federation, Aerospace, Defence & Securities Industries Group and the Society of Motor Manufacturers and Traders.
FDF Director of Communications Terry Jones said:
"We are delighted that the Business Minister Mark Prisk will get to 'see inside' Coca-Cola Enterprises today - one of our industry's many shining examples of engaging the next generation in food and drink manufacturing.
"As an industry, we know that to realise our potential and to deliver our shared vision with Government of 20% growth by 2020, we will need to attract the best talent. Engaging with young people to bring to life a career in food and drink is a key priority for FDF, and the main driver behind our Taste Success - A Future in Food campaign. Programmes such as See Inside Manufacturing support this work by offering an invaluable opportunity for young people, teachers and careers advisers to learn more about food and drink manufacturing and what a great career choice it is."
The extension of See Inside Manufacturing to the aerospace sector comes ahead of the Farnborough International Air Show next month. The Government has been working closely with the industry through the Aerospace Growth Partnership and will make a number of announcements at the event in July.
To see what events are taking place in your area and to register interest visit http://discuss.bis.gov.uk/seeinsidemanufacturing/**
Notes to editors:
**1) **See Inside Manufacturing
**See Inside Manufacturing is a joint initiative between BIS and industry, designed to change outdated perceptions of manufacturing in the UK and build awareness of the career opportunities available in the sector. SIM aims to inform careers influencers about manufacturing, as well as engaging directly with young people, to ensure that future skills provision is catered for. For more information on See Inside Manufacturing, visit the BIS website: http://discuss.bis.gov.uk/seeinsidemanufacturing/
2) **Food and Drink Federation
**The Food and Drink Federation (FDF) is the voice of the food and drink manufacturing industry - the UK's largest manufacturing sector. For more information about FDF and the industry it represents visit: www.fdf.org.uk
3) **Aerospace, Defence & Securities Industries Group
**ADS is the premier trade organisation for all companies operating in the UK Aerospace, Defence, Security and Space sectors. ADS also encompasses the British Aviation Group (BAG). For more information see www.adsgroup.org.uk
4)** SMMT
**The Society of Motor Manufacturers and Traders (SMMT) is one of the largest and most influential trade associations in the UK. It supports the interests of the UK automotive industry at home and abroad, promoting a united position to government, stakeholders and the media. For more information visit www.smmt.co.uk
5)** Make it in Great Britain**
**Launched in November 2011 by Business Secretary Vince Cable and Business Minister Mark Prisk, Make it in Great Britain is a campaign aiming to transform the image of modern UK manufacturing and to raise awareness of its importance for the economy. It is important as manufacturing is a British success story and vital to our economic growth.
The campaign will culminate in an exhibition which celebrates the best of British manufacturing, held at the Science Museum during the Olympic and Paralympic Games time - 24th July to 9th September. The exhibition will highlight the successes of the manufacturing sector to encourage young people to consider a career in the industry and businesses to invest. British manufacturing is a dynamic sector, offering excellent career and investment opportunities.
For further information on the Make It in Great Britain campaign, please visit: http://makeitingreatbritain.bis.gov.uk/
6) BIS's online newsroom contains the latest press notices, speeches, as well as video and images for download. It also features an up to date list of BIS press office contacts. See [http://www.bis.gov.uk/newsroom](http://www.bis.gov.uk/newsroom) for more information.
Notes to Editors
Contact Information
Name BIS Press Office Job Title
Division Department for Business, Innovation & Skills Phone
Fax
Mobile
Email bispress.releases@bis.gsi.gov.uk
Name Matt Barker Job Title
Division Department for Business, Innovation and Skills Phone 020 7215 5946 Fax
Mobile
Published 18 June 2012