News story
Manufacturers asked to take up the Red Tape Challenge
For the next three weeks the Red Tape Challenge will focus on 140 different regulations that manufacturers and producers have to deal with every…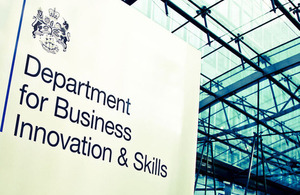 For the next three weeks the Red Tape Challenge will focus on 140 different regulations that manufacturers and producers have to deal with every day. The Challenge asks whether the regulations are good and should be retained or if they are burdensome or redundant and should be scrapped.
The campaign also asks for suggestions on how regulations can be improved or simplified to reduce the burden that they place on businesses but maintain protections for employees, consumers and the public.
Manufacturing minister Mark Prisk said:
"Our manufacturing sector is at the centre of our plans to rebalance the economy and promote sustainable private sector growth. That's why cutting back the bureaucracy and the red-tape that you have to deal with every day is one of my main priorities. I want our manufacturers to be making things, not filling out forms.
"To do that, we need your help. Do we really still need laws on the nationalisation of British Steel? Tell us about the regulations you deal with every day; not just those that are aimed at manufacturers but other legislation and inspection regimes that serve no useful purpose, get in the way of growth and keep you looking over your shoulder.
"You are best placed to know how these rules affect your business. The Red Tape Challenge is your chance to do something about them, make suggestions about how they could be done better and get Government off your back."
Sector champion for the manufacturing theme Terry Scuoler said:
"The burden of regulation weighing down on UK manufacturing has been rising relentlessly. That's why EEF is backing this important initiative which gives businesses the opportunity to tell government directly which regulations are working, which aren't and which should be scrapped. In my role as manufacturing sector champion, I will be working with Government to help it deliver on its promise to cut red tape. I urge businesses to get involved - the more evidence we can offer, the better our chances of reducing inappropriate and stifling regulation."
Notes to editors
Business Secretary Vince Cable is today making a visit as part of the Growth agenda to aircraft manufacturer Agusta Westland in Yeovil, a key skilled employer in the South West. The Government is focused on creating the right conditions for strong, sustainable economic growth. A key part of that is reducing the burden that regulation places on our businesses, which the Red Tape Challenge will play a central part in delivering.
BIS's online newsroom contains the latest press notices, speeches, as well as video and images for download. It also features an up to date list of BIS press office contacts. See http://www.bis.gov.uk/newsroom for more information.
Notes to Editors
Contact Information
Name BIS Press Office Job Title
Division COI Phone
Fax
Mobile
Email NDS.BIS@coi.gsi.gov.uk
Name Nick Evans Job Title
Division Department for Business, Innovation and Skills Phone 020 7215 3496 Fax
Mobile
Published 21 July 2011