Manoj Badale on entrepreneurship in Britain
In a short film launched today, British Asian entrepreneur Manoj Badale talks about business opportunities in the UK. Manoj is one of the founders of the Indian Premier League and a serial technology entrepreneur.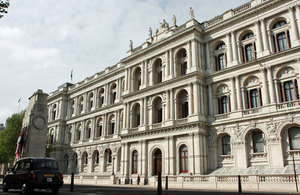 The film is one in a series featuring individuals from home and abroad talking about their experiences of modern Britain in the run up to the London 2012 Olympic and Paralympic Games. Manoj Badale was born in India but grew up in the UK. Manoj is Chairman of the Rajasthani Royals and co-founder and managing partner of Blenheim Chalcot, an early stage investment group. He converted the British television format Pop Idol into Cricket Idol for the Indian market, which was very successful. Watch his short film below.
Manoj believes the UK is a perfect place to launch a business, and that the UK's values of tolerance and equality helped him to seize opportunities and establish himself. In the film, Manoj identifies Britain's status as one of the world's leading financial centres as an asset to those who are looking to start their own business here. With access to a range of opportunities, and a wealth of talent from some of the best educational institutions in the world, Britain offers rising entrepreneurs an open and connected location in which to build their business.
And Manoj's experiences of entrepreneurship in Britain are echoed globally. The World Bank reports that the UK is the easiest place to set up and run a business in Europe, and in the top six for businesses worldwide And according to the OECD, the UK has the fewest barriers to entrepreneurship in the world, with 120 new companies registering with Companies House every hour.
Manoj sees major business opportunities between the UK and South Asia due to their shared history, which he views as being "extraordinarily powerful." His message to other potential entrepreneurs is, "if you want to build your own business you've got everything you need in this country."
Published 20 December 2011