World news story
Manila celebrates The Queen's 90th birthday
The British Ambassador hosted an event to mark The Queen's Birthday, 70 years of UK-Philippines relations and 400 years of Shakespeare.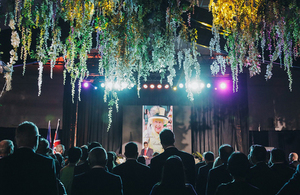 It was A Midsummer Night's Dream in June as British Ambassador Asif Ahmad hosted a Shakespeare-themed event at the British School Manila in honour of Queen Elizabeth II's 90th birthday.
It was a triple celebration as the British Embassy also marked 70 years of diplomatic relations between the UK and the Philippines and 400 years of William Shakespeare's life.
Ambassador Ahmad and his partner Kim del Mundo arrived in a sleek Bentley Mulsanne. As they made their way through the red carpet they stopped by the decorative displays by British companies Arup, Aston Martin, Bentley, Dyson, Etihad Airways, HSBC, Jaguar Philippines, JCB, Marks & Spencer, MINI, Pru Life UK, Quorn, Shell, Standard Chartered, STI, Twinings, Unilever (Magnum Ice Cream) and Whyte and Mackay (Dalmore), as well as participants British Chamber of Commerce Philippines and the British Council.
Repertory Philippines actors clad in fairy-inspired costumes and Elizabethan wear welcomed VIPs into the venue filled with lush foliage reminiscent of scenes from the Bard's famous play. A display of iconic commemorative coins featuring The Queen and William Shakespeare adorned the stage. The Manila Philharmonic Orchestra provided the entertainment which completed the ethereal ambiance.
Onstage for the traditional toast were the Ambassador, Foreign Affairs Secretary Jose Rene Almendras and Dean of the Diplomatic Corps Giuseppe Pinto, with Deputy Ambassador Nigel Boud as Master of Ceremonies. Among those that joined the celebration were Vice President-Elect Leni Robredo, Senator-Elect Risa Hontiveros, Senator Sonny Angara, Peter Coyiuto of PGA Cars, Wellington Soong of Jaguar/Land Rover and Former President Fidel V Ramos.
Asia's best female chef Margarita Fores served a delightful assortment of British favourites, among them Scotch Eggs, Shepherd's Pie, Fish & Chips, Yorkshire Pudding and Eton Mess.
"Here in the Philippines when good friends meet, we like to eat, drink and be merry," the Ambassador concluded. "And to that sentiment, I add a famous Shakespeare line: If music be the food of love, play on."
Read the full transcript of the British Ambassador's speech here.
Photos of the event may be found on the British Embassy Manila Flickr page.