News story
Manchester to get directly elected Mayor
Part of radical plans to devolve power and control to cities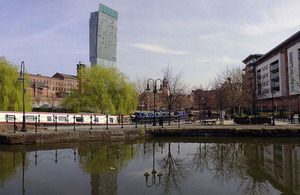 Greater Manchester is to get its own directly elected city wide mayor with powers over transport, housing, planning and policing, Chancellor George Osborne announced today (3 November 2014).
The measure is the latest initiative in the Chancellor's plan to create a Northern Powerhouse to maximise the economic potential of the north.
The proposals also include devolving further powers to the Greater Manchester Combined Authority (GMCA) including over support for business growth, skills and help to join up health and social care budgets.
Taken together the plans represent a comprehensive package of powers for Greater Manchester. The government believes this will create a powerful devolved administration with strong political leadership that can drive through policy to stimulate economic growth and plan strategically across the city, as well as nationally and internationally.
The government hopes that Manchester will be the first of many big cities to take advantage of greater devolution of powers.
Chancellor George Osborne said:
This is a massive moment for the north of England and our plan to build the Northern Powerhouse. After several months of private discussions with local representatives from all three parties, I have reached agreement with the civic leaders of Greater Manchester to create the first metro-wide elected mayor outside of London. This will give Mancunians a powerful voice and bring practical improvements for local people, with better transport links, an Oyster-style travelcard, and more investment in skills and the city's economy.

I want to talk to other cities who are keen to follow Manchester's lead - every city is different, and no model of local power will be the same.

The Northern Powerhouse is becoming a reality. We plan to make major investments in northern transport and science, now we have agreement on the first metro area Mayor. This is what we've achieved in just a few months. Giving cities power is part of our long term economic plan to reduce the decades-old gap between north and south, London and the rest.
Communities Secretary Eric Pickles said:
This landmark agreement shows how serious we are about moving powers out of Whitehall and reinforces the significant authority and finance already given to local communities.

It is an important step in our continuing work to decentralise, to increase local democracy, bring better services and deliver more homes and jobs. Greater power for local government must always come with greater local accountability so people can challenge their council to do better and hold them to account about services they provide.
Lord Peter Smith, chair of GMCA, said:
Make no mistake, this devolution settlement is a momentous moment for Greater Manchester. It gives us greater control over own destiny in several key areas and the ability to base decisions on local priorities and needs rather than on 'one size fits all' dictates from Westminster.

This isn't about taking powers from individual Greater Manchester authorities. It's about powers coming down from central government to a more localised level.
Sir Richard Leese, vice chair of GMCA, said:
Greater Manchester has been in the vanguard of the national devolution debate. It was clear that an over-centralised national system was not delivering the best results for our people or our economy.

We are extremely pleased that we can now demonstrate what a city region with greater freedoms can achieve and contribute further to the growth of the UK.

Our ultimate ambition is for full devolution of all public spending in Greater Manchester, currently around £22 billion a year, so that we either influence or control the whole amount.

We recognise that this cannot happen overnight and there needs to be a staged approach based on evidence that devolution delivers increased economic growth and better public services. But today's settlement is a huge move forwards and a road map for the future.
A new, directly elected Mayor of Greater Manchester will receive the following powers:
control of a £300 million Housing Investment Fund
powers over strategic planning, including the power to create a statutory spatial framework for Greater Manchester. This will need to be approved by a unanimous vote of the Mayor's Cabinet
responsibility for a devolved and consolidated transport budget, with a multi-year settlement to be agreed at the next Spending Review, and responsibility for franchised bus services (subject to consultation by Greater Manchester), and for integrated smart ticketing across all local modes of transport
control of a reformed earn back deal, within the current envelope of £30 million a year for 30 years – this gives Greater Manchester the certainty they need to extend the Metrolink to Trafford Park
take on the role currently covered by the Police and Crime Commissioner
The Greater Manchester Combined Authority will receive the following powers:
responsibility for securing integrated business support services, including through the Growth Accelerator, Manufacturing Advice Service and UK Trade and Investment (UKTI) Export Advice
control of the Apprenticeship Grant for Employers in Greater Manchester and power to re-shape and re-structure the Further Education (FE) provision within Greater Manchester
control of an expanded Working Well pilot, with central government funding linked to good performance up to a fixed DEL limit in return for risk sharing
opportunity to be a joint commissioner with Department for Work and Pensions (DWP) for the next phase of the Work Programme
the GMCA and Greater Manchester Clinical Commissioning Groups will be invited to develop a business plan for the integration of health and social care across Greater Manchester, based on control of existing health and social care budgets
The Mayor for Greater Manchester will differ from current mayoralties in that the powers are greater and control extends over more than one local authority area. The government will now prepare legislation to enable these changes with the potential for the Mayoral election to take place in 2017.
The plans are the latest in a series of initiatives to build the Northern Powerhouse:
Last week, the Chancellor announced plans to develop HS3, a new high speed rail link designed to address the poor east-west transport links in the North.
In August, the Chancellor announced ambitious plans for a potential major new National Institute for Materials Research and Innovation in the north of England and a £60 million Graphene Engineering Innovation Centre (GEIC) in Manchester. Both projects will capitalise on the North's expertise in cutting edge materials research and development and give the North a global head start in this fast expanding industry.
Published 3 November 2014