Press release
Man who bit off a piece of his victim's ear has sentence increased
Leon Smith's sentence is increased after the Solicitor General, Robert Buckland QC MP, intervenes.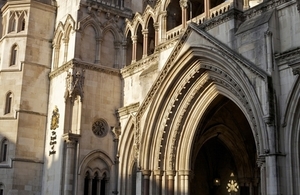 A man who bit off a piece of his victim's ear has had his sentence increased after the Solicitor General appealed it for being too low.
Leon Smith attacked his victim, who was known to him, while he sat in his parked car in July 2016. Smith opened the driver's door and shouted at the victim to get out and when the victim refused the offender kicked the victim in the mouth. Smith then kicked the car door and reached in and grabbed the victim's face and forced his thumb into the victim's eye. The victim was able to force the offender's hand away and at that point the offender bit the victim's ear, ripping off a piece of the ear.
Smith was found guilty of causing grievous bodily harm with intent and originally sentenced to 2 years' imprisonment suspended for 2 years at Lewes Crown Court. Today, after the Solicitor General's action, the sentence was increased by the Court of Appeal to 4 years and 8 months immediate custody.
Speaking after the hearing the Solicitor General, Robert Buckland QC MP, said:
"This was a vicious attack on a defenceless victim which will have lasting consequences. I am pleased that the Court has today increased Smith's sentence and I hope it brings some comfort to his victim."
Published 14 March 2018