Press release
Man jailed for running illegal waste site
County Durham man sentenced to 16 weeks in prison for operating a waste facility without a permit.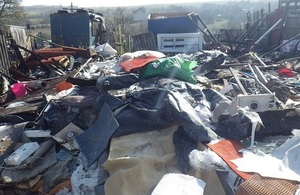 A County Durham who operated an illegal waste site despite being previously prosecuted for the same offence has been jailed.
Christopher Nash, 35, of Hillgarth in Consett, appeared at Peterlee Magistrates' Court on Monday, July 25, where he pleaded guilty to operating a waste facility without a permit at Eastmoor Road Allotments in Murton.
He was sentenced to 16 weeks in prison. He was also sentenced to 8 weeks in prison, to run concurrently, for breaching a suspended prison sentence which was imposed in September 2015 after he pleaded guilty to the same offence.
Also in court was Alan Lamb, 32, of Short Grove in Murton, who was fined £40, ordered to pay costs of £200 and a victim surcharge of £20. He pleaded guilty to obstructing an Environment Agency officer carrying out his duties after he falsely said that the waste at the site belonged to him and not Nash.
Substantial amount of waste on site
Acting on behalf of the Environment Agency, solicitor Simon Crowder told the court that just three months after his September court hearing, on December 23, Environment Agency officers attended the site and saw a substantial amount of waste – with evidence a fire had taken place.
Days later, on December 31, officers met Nash and Lamb on site, where Lamb took responsibility for the waste.
But in February 2016, Lamb told officers he had lied to them during the meeting at the site, and the following month, in March 2016, Environment Agency officers attended and saw no progress had been made to clear the waste away.
On March 30, documents were recovered from the site which showed the waste had been collected by Murton Recycling – the trading name of Christopher Nash.
And on April 28, Lamb was interviewed by officers where he admitted he had obstructed them by lying about the waste in an attempt to buy Nash time to clear away the waste.
Christopher Nash didn't attend for an interview.
Blatant disregard for law
Enforcement Team Leader for the Environment Agency in the North East, Dave Edwardson said:
Just months after his court hearing for operating a waste facility without a permit, this site was full with waste, showing Nash has a blatant disregard for the law.

On top of that, Lamb tried to take the blame for the waste on site so that Nash would have time to clear it. We won't tolerate people trying to prevent us from doing our work to protect the environment and community and this should serve as a message that we will take enforcement action.

We also work closely with our partners to tackle waste crime and in this case Durham County Council's Neighbourhood Wardens provided us with information which helped take this case before the court.

Permitting regulations are in place for a reason, and while we'll continue to work together with legitimate businesses to help them meet their environmental obligations, where there are breaches we will take action.
Anyone who has information about waste crimes can call Crimestoppers on 0800 555 111.
Published 27 July 2016