Press release
Man handed £8800 penalty for operating illegal waste sites in Gloucestershire
On Monday 7 March 2016, Sam Phelps, who ran 'XP Wood Recycling', pleaded guilty to 2 charges of deliberately operating illegal waste sites.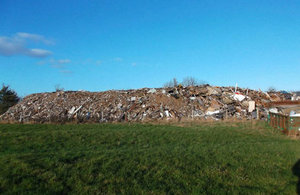 Mr. Phelps was fined £400 for each offence, ordered to pay a contribution to the prosecution costs of £8,000, along with the victim surcharge of £40 following an Environment Agency prosecution at Cheltenham Magistrates court today.
Mr Phelps ran 2 sites in Gloucestershire, one at Pilning where he accepted wood waste and shredded it, before transferring it to a second site at Sharpness Docks. He ran the sites without environmental permits, avoiding permitting fees of £13,489 and also received an estimated profit from his illegal operations in excess of £40,000.
The Pilning site is 100m from the nearest house and only 300m from the village itself. Upon visiting, Environment Agency officers estimated the waste wood pile found on the site was between 3500-4000 tonnes; 3000 tonnes more than the amount allowed under the registered exemption. Low quality waste wood may contain oils and preservatives which are harmful to the environment. Stockpiles of waste wood are also a huge fire risk as they can self-combust. Heat spots develop within the pile as it decomposes. The waste had not been turned or separated to create fire breaks, despite Mr Phelps being asked to do so to reduce the risk of fire. No measures were in place to prevent water run-off from the storage areas impacting upon nearby watercourses.
When an officer visited the Sharpness Docks site they found a pile of shredded waste wood they estimated to be at least 4 times the authorised amount. Fire Officers who worked with the Environment Agency also assessed this site as posing a significant fire risk to the residential development next to the site. The nearby Severn Estuary, a Site of Special Scientific Interest, a Special Protection Area, Special Area of Conservation and a Ramsar (wetland designation), was at risk of pollution from the water run-off from this site.
Mr Phelps ignored initial correspondence from the Environment Agency regarding their concerns. When interviewed by the Environment Agency, Mr Phelps admitted that he knew he needed an environmental permit. He was aware that the exemptions he held had limits on the amounts of wood allowed to be stored but couldn't remember what they were.
Speaking after the case the Environment Agency officer in charge of the investigation said:
Waste crime is a serious offence with tough penalties as it can damage the environment, blight local communities and undermine those who operate legally. This case sends out a clear message that we will not hesitate to prosecute individuals when they do not abide by the law.
You can call the Environment Agency on 03708 506 506 to find out how to responsibly manage any waste your business produces or visit the business and commercial waste webpage. We can all play a part in helping to prevent waste getting into the hands of criminals. If you suspect that a company is doing something wrong, you can call the Environment Agency on 0800 80 70 60 or report it anonymously to Crimestoppers on 0800 555 111.
Published 8 March 2016