Press release
Man guilty of hazardous waste activity at Nottingham waste site
A Nottingham man pleaded guilty yesterday to two charges relating to the illegal operation of a regulated waste facility.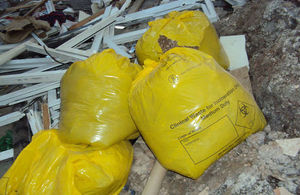 On 21 October 2015, Mr Martin Salmon of Western Boulevard, Nottingham pleaded guilty in Nottingham Magistrates Court and was ordered to pay compensation to the landowner of £20,000, a contribution to Environment Agency legal costs of £2,000 and a victim surcharge of £120. He also received a fine of £2,000 for depositing hazardous waste, namely asbestos, without an appropriate environmental permit to authorise such activity.
In January 2013, Mr Salmon was found to have deposited hazardous waste at the site on Poulton Drive and it was agreed that he would remove this waste by March 2013, as his permit did not allow him to accept this type of waste. However, in January 2013, Mr Salmon stopped trading and abandoned the site, leaving it full of asbestos and other hazardous waste. This was subsequently cleared by the landowner at an expense of over £50,000.
Since the site was abandoned, Environment Agency officers made repeated attempts to try and contact Mr Salmon but were unable to locate him. He also failed to notify the Environment Agency of his change of address as required to do by the conditions of the permit.
Mr Salmon failed to appear in court for the first hearing which was scheduled for 17 June 2015 so a warrant was issued for his arrest. He was arrested on 27 August 2015 and was bailed to appear before Nottingham Magistrates Court on 23 September 2015, although the case was adjourned until 21 October 2015 in order for Mr Salmon to seek independent legal advice.
Speaking after the case, an Environment Agency officer involved with the investigation said:
We grant, monitor and enforce waste permits so that we can ensure that waste operations do not pollute the environment and pose a risk to human health. Mr Salmon was not authorised to deposit hazardous waste and this was a particular concern as the site was in close proximity to the River Trent which could have caused environmental damage. This prosecution demonstrates that we take cases such as this very seriously and will not hesitate to prosecute if necessary, to protect the environment and local communities.
ENDS
For media enquiries contact the press office on 0800 917 9264. Out of hours call 0121 711 2428. www gov.uk/environment-agency
Follow us on Twitter @Envagencymids
Published 23 October 2015