Press release
Man fined for running illegal waste site
Illegal tyre store lands Newcastle man in court.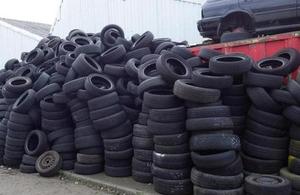 A Newcastle man has been fined £5,000 for illegally storing an estimated 1,500 waste tyres at a site in the city's west end.
Paul John Fullen, 46, of Mariah Street in Benwell, pleaded guilty to operating an illegal waste tyre storage facility when he appeared at Newcastle Magistrates' Court on Friday, August 7.
He was fined £5,000 and ordered to pay costs of £2,111.25, as well as a victim surcharge of £120.
Acting on behalf of the Environment Agency, solicitor Chris Bunting told the court that Fullen runs second hand tyre business PJ Tyres at Condercum Road in Benwell, resulting in large quantities of waste tyres being stored at the site and in the surrounding industrial estate.
The business has no permit for storing waste tyres.
He had previously appeared in court in August last year, where he was ordered to clear the site within three months.
Environment Agency officers took further action when he failed to do so and the court heard Fullen had continued to store waste tyres between November 26, 2014, and August 7, 2015.
The court also made him subject to a further order under Environmental Permitting Regulations regulation 44, which means he has three months to lawfully dispose of the tyres at his premises so their number does not exceed 200.
The Environment Agency's Rachael Caldwell said:
Fullen stored significant numbers of waste tyres on his land and the surrounding industrial estate illegally, creating a fire hazard.

We'll be monitoring activities at the site to ensure he abides by the court order.

We work hard in partnership with the fire and rescue service to tackle the danger of illegally stored wastes that pose a potential fire risk.

Those who operate illegally undermine legitimate businesses and waste crime has a detrimental impact on local communities and the environment.
Area Manager for Community Safety Kevin Gardner, Tyne and Wear Fire and Rescue Service, added:
The storage of large quantities of waste tyres in unsuitable premises poses a significant risk to members of the public in the event of fire.

Fires involving tyres produce vast amounts of black, billowing toxic smoke which have an adverse impact on the safety of the community and the environment.
Anyone who has information about waste crimes can call Crimestoppers anonymously on 0800 555 111.
Published 12 August 2015