News story
Malawi: Urgent support for vital health projects
Today the British Government announced urgent support for the Malawian health system to prevent the cancellation of vital vaccination and bed net programmes.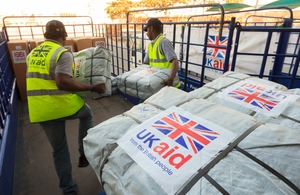 The emergency support for the Malawian health system will provide:
malaria and TB drugs
therapeutic feeding for malnourished children
training equipment for new health workers
support services delivered by the Christian Health Association of Malawi.
International Development Secretary Andrew Mitchell announced the support as part of a refreshed development partnership between the two countries.
Britain will also bring forward previously-agreed funding to help the new President, Joyce Banda, to continue with a positive reform programme in the face of economic turmoil which is threatening to engulf the country.
As part of this support, Andrew Mitchell has agreed with the Governor of the Bank of England for a British economic official to be drafted in to help the Government of Malawi deal with the effects of devaluing the kwacha.
Andrew Mitchell, Secretary of State for International Development, said:
I am encouraged by President Banda's early progress in office. She has put the people of Malawi right at the centre of her Government's programme and she is listening to the sensible advice from the IMF about how to get the economy back on its feet.

I called President Banda to tell her that Britain will support Malawi's Health Ministry and the Christian Health Association of Malawi to ensure that vital services are taken off the 'at risk' list and are delivered for the people of Malawi.

We are also bringing forward financial support to help the Malawian economy following devaluation and the Governor of the Bank of England has kindly agreed to provide technical assistance in this area.
President Banda welcomed Britain's commitment to Malawi and said she was looking forward to discussing her future plans with Andrew Mitchell in more detail.
Reacting to the announcement, President Banda said:
We welcome this much needed support from the UK for health and to support the economic recovery of Malawi. This support is provided at a critical time for Malawi and will help to manage the impact on the poor and most vulnerable.

I look forward to welcoming the Secretary of State for International Development to Malawi in the near future and to discussing the future of UK aid in Malawi with him.
In the past two years alone, UK support has provided food security for over 3.5 million people, of which almost two million are women; improved access to emergency drugs for 200,000 people.
The British Government suspended budget support to Malawi last year after deceased former president Bingu wa Mutharika failed to address concerns over economic management and governance. As a result, British funding earmarked for general budget support has been rerouted via NGOs working on the ground with poor Malawians.
Andrew Mitchell will travel to Malawi at the end of the month to meet President Banda in person and have detailed discussions to help stabilise the economy and support necessary reforms.
Published 12 May 2012