World news story
Making the case for a reformed EU
Ambassador Owen argues for a reformed EU following visits of FCO Minister for Europe, David Lidington, and senior FCO official Tim Hemmings.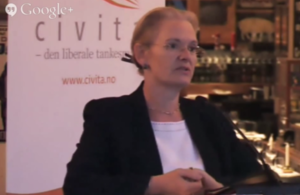 Ambassador Owen made the case for a more competitive, flexible and democratically accountable EU at a breakfast seminar organised jointly by the Embassy, Norwegian think tank Civita and the European Movement on Friday 8 November. The seminar was entitled 'Britain and the European Union' and came on the back of meetings between Minister Lidington and the new Norwegian Government the previous week, as well as a visit by Tim Hemmings from the Foreign & Commonwealth Office Europe Directorate, to discuss the UK's Balance of Competences Review.
Strong interest in Norway about the UK's role in a reformed Europe was illustrated by the high number of participants, with the 165 strong audience including officials, business people, academics and media. Ambassador Owen set out the UK's arguments for European reform and dispelled notions of the UK being a marginalised EU member. She participated in a lively and engaging debate, together with researcher and UK expert Øyvind Bratberg, and Petros Fassoulas, Head of the European Movement in the UK.
Earlier in the week, Tim Hemmings, Head Europe Directorate, Internal in the Foreign & Commonwealth Office, compared the UK Balance of Competences exercise and the recent Norwegian Inside and Outside report at a seminar arranged jointly by the embassy and NUPI, the foremost Norwegian foreign policy think tank, Hemmings said that while the two reports were quite different in nature, the Norwegian report had been an important reference point for the UK review, due to be completed in the fall of 2014.
These events followed a visit to Oslo of the FCO Minister for Europe David Lidington, to discuss bilateral cooperation and a range of EU issues with the new Norwegian Government, business leaders and think tanks. In meetings with Norway's new Europe Minister Vidar Helgesen, and State Secretaries from the Foreign Affairs, Finance, Trade and Justice ministries, Mr Lidington discussed Norway's priorities for the EU, energy, security and foreign policy, and set out recommendations for cutting EU red tape made by the UK Prime Ministers' Business Taskforce in their recently published report.
Published 11 November 2013