Press release
Making it easier for communities to set up new town and parish councils
Stephen Williams confirms new measures giving communities a greater say in how their local neighbourhood should be governed.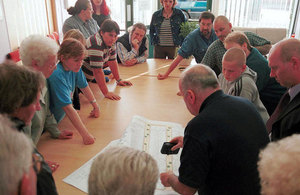 Communities Minister Stephen Williams has confirmed new measures that will make it far easier for communities to set up new town and parish councils giving them a greater say in how their local neighbourhood should be governed.
The changes follow 2 public consultations which found that existing legislation required in setting up a parish or town council was too burdensome and bureaucratic, and discouraged local campaigners from establishing one.
The amendments to the Local Government and Public Involvement in Health Act 2007 passed this week will:
lower the threshold of signatures required to trigger a review of governance from 10% to 7.5% of residents
speed up the process and create greater certainty for local campaigners by shortening the amount of time the local authority can take to complete a governance review to 12 months from receipt of a valid petition
allow neighbourhood forums which have had a neighbourhood development plan passed at referendum to trigger a community governance review for a new parish council without requiring them to submit a petition
Stephen Williams said:
Town and parish councils are a valuable part of our democracy, giving communities a democratically accountable voice and a structure for taking community action. But too many communities have been put off by the lengthy and bureaucratic process involved

That's why we've changed the rules, cut the red tape and removed the bureaucratic burdens to make it far easier for people to have a greater say over what happens in their neighbourhood and deliver local services.
Cllr Ken Browse, chairman of NALC (National Association of Local Councils) said:
Local (parish and town) councils are popular with communities and can really make a difference, and for too long people have battled with burdensome bureaucracy to get them created. These new laws to remove red tape, simplify and streamline the current process is a common sense move.

We support the continued impetus on the creation of more local councils to deliver services to local communities and give them a voice.

The government's new laws are a step in the right direction to help people and communities create these most local of democratically accountable councils. Now communities and people can get on with delivering grassroots level services and representation by taking local action.
Lowering the threshold of petition signatures will make it easier for communities to trigger the community governance review process, which involves the local authority consulting those affected, so the whole community's voice can be heard.
The introduction of the 12 month time limit will result in more effective decision making and give local people certainty about the length of time the review process will take. This defined time limit will also help communities to campaign more effectively by reducing the associated costs, including the cost of producing leaflets, circulating campaign material and hosting meetings.
And allowing a neighbourhood forum to submit an application for a community governance review without a petition allows the forum to draw on the rich understanding of what the local community wants which it develops through the neighbourhood planning process.
Over the coming months the Department for Communities and Local Government will be working across the local government sector to support the new measures. We will be introducing revised guidance on community governance reviews explaining the new measures and provide more information on support for principal authorities undertaking community governance reviews as a result of them.
These measures add to the tools available to communities through the Localism Act 2011 and supported by the Community Rights programme to give even more people greater control and influence over what happens locally.
Further information
See the written ministerial statement on these measures made on 11 March 2015 after committee.
In areas without a town or parish council, neighbourhood planning is taken forward by a neighbourhood forum: a body with a minimum of 21 people, which is open to anyone who lives or works in the area or is an elected representative for the area. Forums must be able to demonstrate that they have sought members that are representative of the neighbourhood area.
Community governance review is the process by which a local authority decides about whether changes are needed to local governance arrangements, including the creation of new parish councils.
Office address and general enquiries
2 Marsham Street
London
SW1P 4DF
Contact form http://forms.communiti...
General enquiries: please use this number if you are a member of the public 030 3444 0000
Published 27 March 2015