News story
Make it in Great Britain Challenge finalists unveiled
Successful entries of the Make it in Great Britain Challenge include a new technology which could offer relief to tinnitus sufferers, an eco…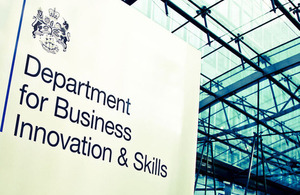 Successful entries of the Make it in Great Britain Challenge include a new technology which could offer relief to tinnitus sufferers, an eco-friendly alternative to everyday cement that could reduce CO2 emissions by up to 90 per cent and a pushchair that can be folded down to a 32 litre-size rucksack.
They will showcase their creations on a weekly basis at the _Make it in Great Britain _exhibition at the Science Museum in London, which will coincide with the Olympic and Paralympic Games this summer.
There are five entry categories, with one finalist from the 'Make it… Breakthrough' category, for 16 - 21 year olds, also having the chance to be crowned 'The People's Choice'. The decision lies entirely with the public, and voting is now open from today.
Business Minister Mark Prisk said:
"The UK is full of creative manufacturing expertise, and I'm delighted that we are able to celebrate some of the best pre-market ideas through the Challenge.
"We've had a great response, and I'm particularly excited by some of the entries received in the Breakthrough category. I'd urge the public to get voting and tell us who they would like to receive the honour of being named the People's Choice."
Mark Champkins, the Science Museum's Inventor in Residence and one of the judges of the Make it in Great Britain Challenge, commented:
"I was very impressed with the level of innovation demonstrated by some of the young people who entered the Make it in Great Britain Challenge. I think it's great that creative youngsters are being given the opportunity to showcase their work at the Science Museum, and I hope that lots of people take part in the People's Choice vote to award one of the entries pride of place in the exhibition."
The winning entries will showcase alongside names such as Mars and McLaren, and leading small and medium businesses like Ultra Global in celebration of manufacturing.
Visitors to the six-week exhibition will be invited to vote on their favourite entry. The winners from each weekly vote will feature together in the final week of the exhibit.
To find out more about the finalists and to cast your vote for the People's Choice winner, please visit the Make it in Great Britain website.
The Make it in Great Britain Challenge finalists are:
**Breakthrough finalists
**Steve Costin, Simon Beck, Usman Iqbal and Emily Cheeseman - Inviso
**Rochester**, Kent
**Inviso is a device designed by four BAE Systems apprentices to give a greater field of vision to paralysed or injured servicemen. The device allows them to use a mouse or voice control to manoeuvre one of three cameras, connected to a screen. The aim is to give them an unrestricted view of the hospital ward, enabling them to see neighbouring patients and visitors, and to help with basic needs such as eating and shaving.
**James Popper - CookerSmart
**Swindon**, Wiltshire
**CookerSmart, designed by 20 year old James Popper, is claimed to be a unique and highly innovative fire detection system, devised primarily, but not exclusively, for the kitchen, where 67% of house fires start. CookerSmart detects fires rapidly by identifying the early infrared emission of flames (rather than smoke), alerting households to the danger more quickly than conventional solutions and reducing the irritating false alarms largely triggered by cooking.
**Sean Gallagher, Rebecca Wolfenden, Joseph Birks, Liam Smith, Jordan Hunter, Daniel Walker, Samantha Freeman and Bradley Hodgeson - Bed Flex
**Preston**
**BedFlex has been designed by a group of BAE Systems apprentices so that recovering amputees and critical care patients can take part in bed-based exercise to aid rehabilitation. Using an innovative attachment, BedFlex enables patients to secure resistance tubing to a stable object (such as the bed) without the risk of the elastic slipping or coming undone - a common problem with existing physiotherapy tools which use resistance tubing.
**Smarter finalists
**Arnold** Du Toit - Rolley Golf
**London
**Rolley is the brain child of young entrepreneur Arnold du Toit and claims to be the world's first hop-on golf trolley. Rolley Golf can be folded into three modes - walk, ride or travel. Using smart lithium battery power the Rolley Golf allows golfers to walk or cruise silently around the green, carrying their clubs with them.
**Dr David Linsdall - Location system
**Weybridge**, Surrey
**This indoor Location System was originally conceived to help track emergency services personnel to reduce serious incidents where members of the services have been trapped with very little idea of their location within a large building or complex. It is claimed that the new system can position people or assets with more accuracy than current products, deep inside a building through solid walls and floors.
**Dr. Martin Hofmann & Jennifer Compton - Lucid
**Stroud, Gloucestershire
**The Lucid System is a novel liquid transfer product for use in any industry where sterility is critical. It replaces complex assemblies of welded steel pipework with a 2-dimensional network of silicone tubing and unique patented dams. Suggested benefits include significantly reduced production costs, greater flexibility and reduced capital investment.
**Mark Brice - GeoMole
**Faversham**, Kent
**This small pneumatic mole has been developed to give virtually everybody the opportunity of installing heating systems that use energy from the ground. The makers claim that this will make this renewable energy resource a more available option for households. The small pneumatic mole displaces soil and pulls in the pipes to be connected to a Ground Source Heat Pump (GSHP), eliminating the need for large, messy and expensive drilling rigs. It also has the advantage of being able to access restricted areas from mid terrace houses to cellars and as a bonus can cuts the costs.
**Russell Clifton - Ruk-bug
**Manchester
**This lightweight, every day urban/country pushchair can be folded down and carried on your back via a 32 litre rucksack, claim the makers. Its curved frame prevents the pushchair from tipping over and enables users to carry additional weight on the back, while a single hand folding mechanism makes collapsing the chair easier for parents on the go.
**Stronger finalists
**Andrew Drennan - LoadSCAN
**Rotherham, Yorkshire
**LoadSCAN is an ultrasonic load monitoring technology for the civil and structural engineering industry which use high performance electronics to measure and monitor structural loads in cables and bars on bridges and buildings. The inventors believe that LoadSCAN could potentially save lives by warning operators when a structure has exceeded its permissible load, and could also be used after events such as earthquakes and hurricanes, to quickly assess the safety of structures such as bridges and buildings.
**Kenny Blackstock - BanahCEM
**Ballyclare, Newtownabbey
**A geopolymer binder system, banahCEM is a high performing, low carbon alternative to Portland cement, which aims to reduce CO2 output by up to 90%, claim the makers. It stated that banahCEM outperforms Portland cement in the areas of carbon reduction (by a mininimum of 80%); enhanced fire resistace; reduced need for raw material extraction; less energy use in production; superior chemical and sulphate resistance; and better frost resistance/durability. The makers believe that it is best suited for use in areas where there is risk of fire, extreme temperatures, acid spillage, effluent contact or sea water contact.
**Stan Ceney - TenCon
**Wolverhampton**, Staffordshire
**TenCon is a load indicating, tension controlled washer used for clamping bolted joints correctly. It aims to improve on existing techniques, providing a solution which is more cost efficient, less time consuming and more accurate. The washer is designed for assembly into any bolted joint and can be installed with unskilled labour for any type or size of fastener and, depending on the application, can have a protective coating to suit any environmental condition.
**
Stefan Karp - A Chain of Thought
**Rushden, Northamptonshire
**This roller chain is made entirely from suitable polymers, employing only two different components. The roller chain works with metal or polymer sprockets and requires no lubrication. It is also suitable for aggressive liquid environments, can be conductive, non-conductive and non-magnetic.
**Life Changing finalists
**Martin Day - Carclo Diagnostic Solutions (CDS)
**London
**Carclo Diagnositc Soloutions has developed a range of disposable, self-contained medical devices, known as Micropoc. The aim is that these medical tests will be used in non-laboratory locations, such as a GP's office, the home or office, so that patients' conditions can be diagnosed (and therefore treated) faster. The electronic testing platform takes a sample of body fluid and provides a permanent digital output of a test result.
**Bridget Hall - PaVEway
**Billingham, Stockton-on-Tees
**pAVEway™ expression systems combine new genetic technology with advanced bio processing and aim to transform the cost of new biotech drugs and get them to patients faster. Biotech drugs are very costly and time consuming to produce, limiting their use by hard-pressed health providers and restricting use in developing countries. pAVEway™ expression systems address both issues by enabling high productivity, customised processes, and fast development and manufacturing.
**Tas Gohir - Tinnitus relief
**Leicester, Leicestershire **
This new technology, developed at the University of Leicester, aims to provide periodic respite for sufferers of Tinnitus, which is said to affect 10% of the western population. It is based on the discovery that exposure to light of individually tailored colour can provide relief from Tinnitus symptoms in 40% of sufferers. The technology uses red, green and Blue LEDs, tuned specifically to each individual, which they stare at for a defined period to achieve symptomatic relief.
**Sustainable finalists
**Dan Aris -Libralato Rotary Engine
**Manchester
**The makers predict that the Libralato rotary engine will become the most efficient compact petrol engine in the world and that it could reduce average road vehicle fuel consumption by two thirds and CO2 by half. The libralato rotary engine is a new engine design with a completely new thermodynamic cycle. The leading rotor's orbit has a larger diameter than that of the following rotor. Therefore the volume of the expansion chamber is larger than that of the compression chamber and more work can be extracted from the combustion of the fuel-air mixture.
**Dominic McLarnon - SolaCatcher
**Newtownabbey
**The SolaCatcher is an 'all-in-one' passive low cost solar water heater that can both collect solar energy and retain stored heat for a prolonged period. The SolaCatcher design operates like a thermal diode; the technology promotes solar collection during the day but reduces thermal losses at night. The makers hope that SolaCatcher will help meet hot water requirements for households, as well as in army accommodation in war zones and in disaster relief zones, where there is a demand for cost effective hot water generation.
**Dr Scott Brow - Lithium Ion Battery
**Abingdon, Oxfordshire
**Nexeon's new lithium-ion battery technology replaces the carbon material conventionally used in the cell anode with silicon, for a more efficient rechargeable battery. Inventors claim this will enhance the consumer experience of mobiles, laptops and other gadgets by improving the effectiveness of rechargeable batteries; and encourage the switch from disposable to rechargeable batteries in devices such as toys and torches which typically use one-time, non-rechargeable batteries.
They also believe it will help unlock the full potential of sustainable energy sources and energy efficient transport.
---
**Notes to editors:
**1. Make it in Great Britain Challenge categories are:
Make it…Stronger
Make it…Smarter;
Make it…Sustainable;
Make it…Life changing; and
Make it…Breakthrough (for 16-21 year old entrants only)
Make it…Breakthrough has been specifically designed for young people and entries and can conform to any of the other four categories. Ahead of the exhibition opening in July, members of the public will have a chance to vote on which of the finalists in this category they believe is the most significant innovation, with the winner securing a place in the Science Museum for the entire duration of the exhibition.

About Make it in Great Britain
Make it in Great Britain is a campaign that will challenge outdated perceptions and transform the image of modern manufacturing.
The Business Secretary Vince Cable and Mark Prisk launched the Make it in Great Britain campaign at a stakeholder event in Central London attended by 150 of Britain's manufacturers and trade associations in November 2011.

The Make it in Great Britain exhibition is taking place at the Science Museum from 24 July to 9 September.

For more information, and further information about the finalists visit http://makeitingreatbritain.bis.gov.uk/

The Government's economic policy objective is to achieve 'strong, sustainable and balanced growth that is more evenly shared across the country and between industries.' It set four ambitions in the 'Plan for Growth' (PDF 1.7MB), published at Budget 2011:
To create the most competitive tax system in the G20

To make the UK the best place in Europe to start, finance and grow a business

To encourage investment and exports as a route to a more balanced economy

To create a more educated workforce that is the most flexible in Europe.
Work is underway across Government to achieve these ambitions, including progress on more than 250 measures as part of the Growth Review. Developing an Industrial Strategy gives new impetus to this work by providing businesses, investors and the public with more clarity about the long-term direction in which the Government wants the economy to travel.
BIS's online newsroom contains the latest press notices and speeches, as well as video and images for download. It also features an up to date list of BIS press office contacts. See http://www.bis.gov.uk/newsroom for more information.
Notes to Editors
Contact Information
Name BIS Press Office Job Title
Division Department for Business, Innovation & Skills Phone
Fax
Mobile
Email bispress.releases@bis.gsi.gov.uk
Name Andy Aston Job Title
Division Department for Business, Innovation & Skills Phone 0207 215 6963 Fax
Mobile
Published 4 July 2012