Vince Cable and Mark Prisk launch the new campaign and exhibition highlighting the best of modern British manufacturing.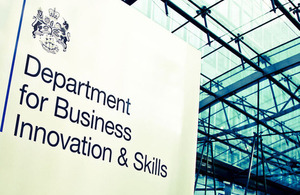 Business Secretary Vince Cable and Business Minister Mark Prisk have today formally launched the Make it in Great Britain campaign, which aims to transform outdated views of UK manufacturing and dispel the myth that Britain 'doesn't make anything anymore'.
Find out more on the new website
Captains of industry from world leading UK companies are backing the new Government campaign to highlight the best of modern British manufacturing at an exhibition during the Olympic Games.
The UK is one of the world's largest manufacturers. The sector contributes £140bn pa to UK economy
Senior traders such as Joe Greenwell from Ford of Britain, William Butler-Adams from Brompton Bicycles and Michael Ryan from Bombardier Aerospace are behind the campaign. They will act as the first 'industry champions' taking formal roles as part of the campaign and supporting its work.
Mark Prisk also announced that the campaign will be looking to recruit 30 rising stars of manufacturing under the age of 30, '30 under 30', to inspire young people with their own experiences and support the campaign.
The champions
The call for industry champions to take part in the campaign was made on 24 October 2011. There will be up to 30 industry champions who will take part in, and support the campaign.
The full list of industry champions appointed so far are:
Steve Uden Head of Skills, Microsoft Computing
William Butler-Adams Chief Engineer, Brompton Bicycles
Michael Ankers Chief Exec, Construction Products Association
Stephen Blatchford Chief Exec, Chas A Blatchford
Joe Greenwell Chairman, Ford of Britain
Ian McCubbin Senior VP, GlaxoSmithKline
Michael Ryan VP, Bombardier Aerospace
Make it in Great Britain - the exhibition
The exhibition will take place at the Science Museum and will run from 24 July to 9 September 2012. The campaign builds on the already successful See Inside Manufacturing initiative and will celebrate the successes of the manufacturing sector and encourage young people to consider a career in the industry.
There will also be a specific element, the Make it in Great Britain Challenge, focusing on new innovations yet to be brought to the market.
Synonymous with advances in technology and home to examples of some of the greatest manufacturing feats in the world, the Science Museum has been selected as the perfect venue at which to display British manufacturing excellence next summer.
Links
Published 15 November 2011