News story
Make it in Great Britain
New call for UK manufacturing champions to show the best of British industry throughout 2012.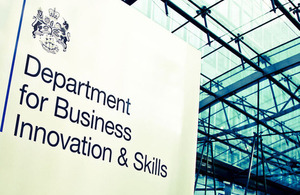 Make it in Great Britain is a new campaign aimed at transforming outdated opinions of UK manufacturing. The campaign will culminate in an exhibition during Games time that will celebrate the successes of the manufacturing sector, challenge inaccurate views of manufacturing and encourage young people to consider a career in the industry.
To help overturn the myth that Britain 'has no manufacturing industry' the Business Secretary, Vince Cable has called on manufacturers across the country to help Government find up to 30 'industry champions' to take part in, and support the Make it in Great Britain campaign.
Vince Cable said:
"Despite popular belief, Britain still does make things and has outstanding manufacturing companies, large and small. Our world-beating companies have an excellent reputation for innovation.
"I want our young people and those who hold outdated views of British manufacturing to see that reality. That's why we're launching the Make it in Great Britain campaign.
"To help us do that I want our most passionate manufacturers, whether that's 'captains of industry' or those just starting out in their careers, to be our industry champions. With their help, we can modernise people's views of manufacturing and dispel the myth that 'we don't make anything in the UK anymore."
The industry champions will be knowledgeable about manufacturing and will play an important role in challenging the current myths about UK manufacturing. They will identify and publicise British manufacturing successes and act as advocates for the campaign and the future of British manufacturing.
Take part
Do you have a personal story to tell about manufacturing and be willing to spend time supporting the campaign in the run up to the exhibition? if you would like to participate in the campaign you can send some details to us on the following form.
Manufacturing UK
The call for champions comes after a week of activity, highlighting the importance of manufacturing to the economy and, through the Government's 'See Inside Manufacturing' initiative, encouraging young people to consider a career in modern manufacturing.
Other announcements over the last two weeks included:
Links
Published 24 October 2011