News story
Make it a short break not heartbreak
UK Government encourages couples to 'Know Before They Go' and be better prepared when travelling overseas this Valentine's Day.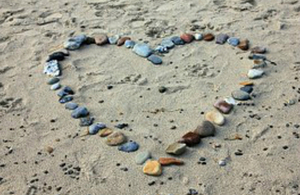 Whether for a romantic city break abroad or a longer winter break to catch some sun, the Foreign & Commonwealth Office (FCO) is sending out a timely reminder to British nationals to be prepared before they set off on a holiday abroad this Valentine's Day.
As well as the essentials such as making sure passports and travel documents are valid and up to date, knowing the local laws and customs of the destination will help to ensure that your romantic getaway is as stress-free as possible.
Even in familiar destinations, you need to be alert. Pickpockets often target tourists admiring the Eiffel Tower at night; thieves can use distraction techniques to target money and passports at Spanish airports; and stinging jellyfish may be the reason why that romantic beach is deserted.
For those impulsive moments, feeding the pigeons is Venice is illegal; meal times in Mexico are very different to the UK, so bear that in mind if you're planning a romantic dinner; and climbing up to your loved one's balcony anywhere can be fatal, especially if combined with alcohol.
Scottish Secretary Alistair Carmichael said:
From our major airports in Aberdeen, Glasgow and Edinburgh and through the gateway of major hubs like Heathrow, more and more far flung destinations are becoming easier to reach for Scots looking for a short break.

For those travelling this weekend it's a great comfort to know the Foreign Office has a network of over 800 consular staff around the world to look after Scots abroad. Last year alone, the FCO's consular staff helped over 450,000 British people.

Prevention is always better than cure, so know before you go. Check advice and research your destination before setting out on holiday to ensure your break is one to remember for all the right reasons.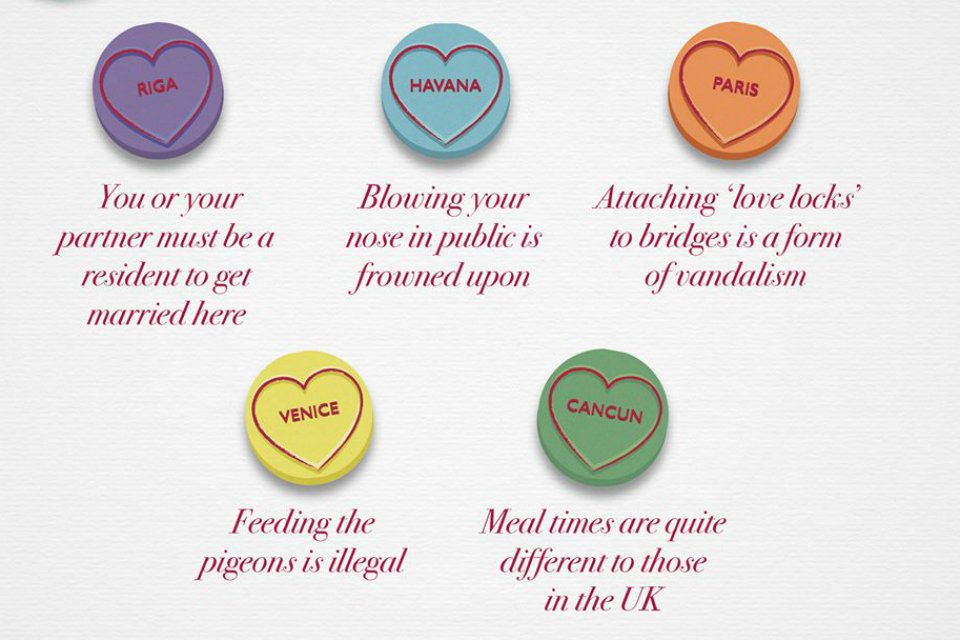 John Heppenstall, Head of Consular Campaigns at the Foreign & Commonwealth Office, said:
Getting swept up in the excitement is part of the fun of jetting off overseas but it's important to do your research and keep your wits about you during your holiday. Always take out comprehensive travel insurance and if you're travelling in Europe take your free European Health Insurance Card too.

Check your passport is valid and that you have any necessary visas before you go. And of course when you're away, keep your passport and other valuables safe. For further information and some handy travel tips, visit www.gov.uk/knowbeforeyougo.
ABTA's Travel Trends Report 2015 found that city breaks overtook beach holidays as the most popular type of holiday in 2014 and are expected to hold the top spot into 2015, with 43% of people planning a city break and 42% planning a beach holiday. Over a third (35%) also think they will take a holiday to a country they have never been to before this year.
The Know Before You Go campaign targets a number of audiences, from gap year students to package holidaymakers; sports fans to older travellers and people visiting friends and family abroad. The campaign works with more than 300 travel industry partners to communicate its messages.
Published 13 February 2015