Press release
Major shake up to prisoner incentives
Significant reforms to the Incentive and Earned Privileges (IEP) policy across prisons in England and Wales have been brought into force today.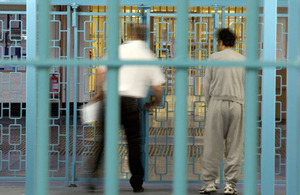 When taking up the role of Justice Secretary, Chris Grayling made it clear that the current policy needed a thorough and detailed review to ensure that it properly addresses reoffending as well as being something the public can have confidence in.
A full review of the policy – the first for 10 years – was ordered by Minsters last year and was completed in April. From today the absence of bad behaviour will no longer be enough to earn privileges – prisoners must also actively work towards their own rehabilitation.
Other key changes include:
The introduction of a new IEP level – "Entry" – where privileges are restricted.
Certificate 18 DVDs and subscription channels banned from all prisons.
A national standardised list of items available for each level.
An automatic IEP review for bad behaviour, with a presumption of downgrading.
TVs turned off when prisoners should be engaged in work or other productive activity.
Prisoners who misbehave will lose their TV.
Last month we also announced changes to the Prison Rules which will see prisoners pay compensation for damage caused.
Justice Secretary Chris Grayling said:
"For too long the public has seen prisoners spending their days languishing in their cells watching TV, using illegal mobile phones to taunt their victims on Facebook or boasting about their supposedly easy life in prisons.
"This is not right and it cannot continue.
"The changes we have made to the incentive scheme are not just about taking TVs away from prisoners, they are about making them work towards their rehabilitation. Poor behaviour and refusal to engage in the prison regime will result in a loss of privileges. It is as simple as that.
"The expectation now is that prisoners engage in work or education as well as addressing alcohol or drug issues. Only by doing this can we hope to bring down our stubbornly high reoffending rates."
Since April, major work has been going on across the prison estate to make staff and prisoners fully aware of the changes and ensure that the scheme is implemented safely across the prison estate.
Notes to editors:
The revised Incentives and Earned Privileges (IEP) policy – Prison Service Instruction (PSI) 30/2013 – goes live in all prisons in England and Wales on 1 November 2013.

The MoJ has also introduced an additional policy to ensure that all prisoners, including young offenders, who deliberately damage prisons and/or prison property will be required to pay for the damage that they have caused (PSI 31/2013).

For more details please contact the Ministry of Justice press office on 020 3334 3536.
Published 1 November 2013