Press release
Major sea defence upgrade between Sea Palling and Winterton
The Environment Agency has started work on its latest phase of major works to maintain the sea defences between Sea Palling and Winterton.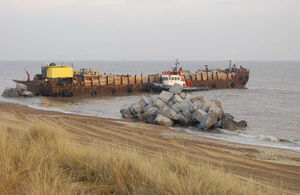 Timber and steel groynes which have reached the end of their working life are being replaced by rock groynes built from 10-15 tonne rocks, similar to those built over the last 15 years on this length of coast.
Around 24,000 tonnes of rock has been transported by barge from Norway. Due to its size this main barge will remain anchored offshore whilst a smaller barge will be used to transfer the rock to the beach in loads of around 1,200 tonnes. The smaller barge will arrive at the beach at high tide and unload the rock. The rock will then be picked up at low tide by excavators and placed into its final position.
The work is taking place on a sensitive part of the coastline and the timing of it is governed by the need to accommodate nesting Little Terns and the Grey Seal pupping season. The Environment Agency is working with local landowners, Natural England and Friends of Horsey Seals to minimise the risk of disturbing any seal pups. The Environment Agency have also appointed specialists who will be monitoring seal presence and behaviour closely and advising them accordingly.
Peter Ansell from Friends of Horsey Seals said:
We have been closely involved with the planning and operation of the forthcoming works and are confident that the contractors will make every effort to minimise disturbance to the Atlantic Seal Colony during their breeding season.
Currently the seals prefer to rest in the areas around the rock groynes already built, where sand levels are high. We hope that the new groynes will provide additional shelter and attract many more seals and tourists alike.
Paul Mitchelmore, Project Manager at the Environment Agency said:
This large delivery of rock will take around 6 weeks to offload and position. The areas where contractors are working will be fenced off but otherwise there should be no restrictions to beach users other than the voluntary beach closure operated by Friends of Horsey Seals.
Published 6 November 2015