Press release
Major overhaul of Coroner Services in England and Wales
The needs of bereaved families will be put at the heart of a reformed coroner system by a new national code, Justice Minister Helen Grant announced.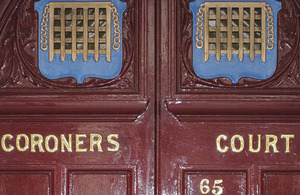 The new legal framework will ensure all 96 coroners in England and Wales will work to the same standards, ending the past inconsistencies which led to criticisms of a postcode lottery – with bereaved people in some areas facing long waits for inquests.
Coroner services will now be overseen by the first Chief Coroner of England and Wales, His Honour Judge Peter Thornton QC, and will be locally delivered within national standards designed to lead to a more efficient system of investigations and inquests. The new laws come into force on 25 July and mean that coroners will:
Be able to speed up the release of bodies after post mortem and will be required to notify the deceased's next of kin or personal representative if the body cannot be released within 28 days.
Permit less invasive post-mortem examinations.
Be required to complete inquests within six months of the date on which they are made aware of the death, unless there are good reasons not to.
Be required to notify those who are bereaved within a week of setting the date for the inquest.
Have to report any cases that last more than a year to the Chief Coroner, and give reasons for any delays.
Provide greater access to documents and evidence, such as post-mortem reports, before the inquest takes place, to enable bereaved families to prepare for the hearing.
Be subject to new training requirements.
Justice Minister Helen Grant said: 'We are making absolutely sure that the needs of bereaved people are put first and foremost – and that this is done consistently around the country.
'I want to see all coroners delivering the same, efficient service across the board, and we have put these changes in law so people can be assured inquests are being conducted quickly, with adequate care and the right support available for those who lose loved ones.'
The Government has already implemented the role of Chief Coroner, with the Lord Chief Justice appointing His Honour Judge Peter Thornton QC as the first Chief Coroner of England and Wales, in May last year. He will play a key role in implementing new national standards which will bring greater consistency of practice between coroner areas. From this summer, the Chief Coroner will also have a full range of powers to drive up standards.
Today's announcement follows a consultation, following which we carefully considered the responses and refined our proposals. Our response sets out how we are overhauling the coroner system.
The impact of implementation will be reviewed 18 months after the coroner reform provisions come into effect.
Notes to editors
The consultation paper Implementing the coroner reforms in Part 1 of the Coroners and Justice Act 2009, published earlier this year, sought views on a proposed new national framework of standards for coroner investigations and inquests under the Coroners and Justice Act 2009 closed on 12 April 2013. View the consultation.
View the consultation response.
The WMS can be found on the parliament website.
Some factual notes on the inquest process are set out below:
• An inquest is a fact-finding inquiry into a violent or unnatural death, a sudden death of unknown cause, or a death which has occurred in prison to establish who has died, and how, when and where the death occurred.
• The inquest is conducted by a coroner, and s/he hears evidence relating to the body and the circumstances of the death of a deceased person.
• The inquest is a form of public inquiry to determine the truth. It is not a trial so there are no formal parties.
• The inquest verdict cannot be framed in such a way as to appear to determine matters of criminal liability on the part of a named person or civil liability.
For more information call the Ministry of Justice press office on 0203 334 3536. Follow us on twitter @MoJPress.
Published 4 July 2013
Last updated 24 July 2013
+ show all updates
new image
First published.