Major Nana Twumasi-Ankrah on Britain's open and democratic society
In a Foreign Office film launched today, the first black officer appointed to the Household Cavalry Mounted Regiment discusses taking part in the Trooping the Colour parade and the diversity of modern Britain.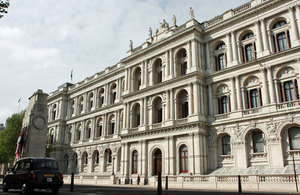 The film is one of the 'See Britain through my eyes' series featuring individuals from at home and abroad talking about their experiences of modern Britain in the run up to the London 2012 Olympic and Paralympic Games. The Major's film is being released to coincide with Trooping the Colour, the annual world famous display of pageantry, and to mark the Queen's official birthday where the Household Cavalry and others parade before the Queen. Watch the film below.
In the film, the Major reminisces about watching the Queen's Birthday Parade on the television as a child in Ghana, not realising years later he would command the very regiment he saw taking part. He points to how those from Commonwealth Countries like Ghana "idolise the British way of life and British culture," pointing to the balance of tradition and modernity. As the first black officer commissioned in the Household Cavalry to command 120 men and 120 horses, the Major believes the diverse make-up of his regiment embodies the wider modern Britain where "officers from so many backgrounds all mix together as one."
The Major also celebrates the strong traditions of freedom of speech apparent every day in the British media and everyday life with people free to express views on any subject they like. He believes it is this openness which encourages an open British society where so many cultures are represented.
The Household Cavalry, made up of two units, is the oldest and most distinguished regiment in the British Army. It is unique in that its soldiers carry out active tours of duty in conflict zones overseas like Afghanistan in addition to performing state ceremonial duties. It was involved in the Royal Wedding ceremony in May.
Trooping the Colour is a ceremony performed by regiments of the Commonwealth and the British Army. It has been a tradition of British infantry regiments since the 17th century, marking the official birthday of the British Sovereign since 1748. It is held annually on Horse Guards Parade and sees the Queen travel down the Mall from Buckingham Palace in a Royal Procession. This year's ceremony takes place on Saturday 11 June.
Published 9 June 2011